Monthly Document Credits
Say Goodbye to PACER
RPX Insight eliminates the need to go to PACER to access district court and Federal Circuit filings. It provides all district court complaints free of charge, in addition to PTAB and ITC documents, Federal Circuit notices of appeal, as well as patent documents. All other district court and Federal Circuit documents are charged at a 10¢ per page, up to the PACER maximum per document. You will never be charged twice for viewing the same document. Document credits never expire; they are carried forward from month to month and are exercised only after all monthly subscription credit is applied. You can also track your purchased and available document credits and see complete billing and document download histories on the My Account page.

District Court Dockets
Cross-referenced Docket Details
The litigation page on RPX Insight provides all the information you need on a district court case in a single view, including filing date, case status, transferred cases or federal circuit appeals, court, judge, parties, and counsel. All parties, as well as the judge, venue, and law firms, are normalized and linked to their respective detail page. Without having to go to PACER, you can search the entire docket entry text and directly download court documents from RPX Insight using monthly document credits. No more looking for amended complaints—the "View Complaint" button automatically downloads the latest amended complaint. RPX's proprietary market sector tags, as well as lists of patents-in-suit and accused products, provide immediate context about the focus area of a case.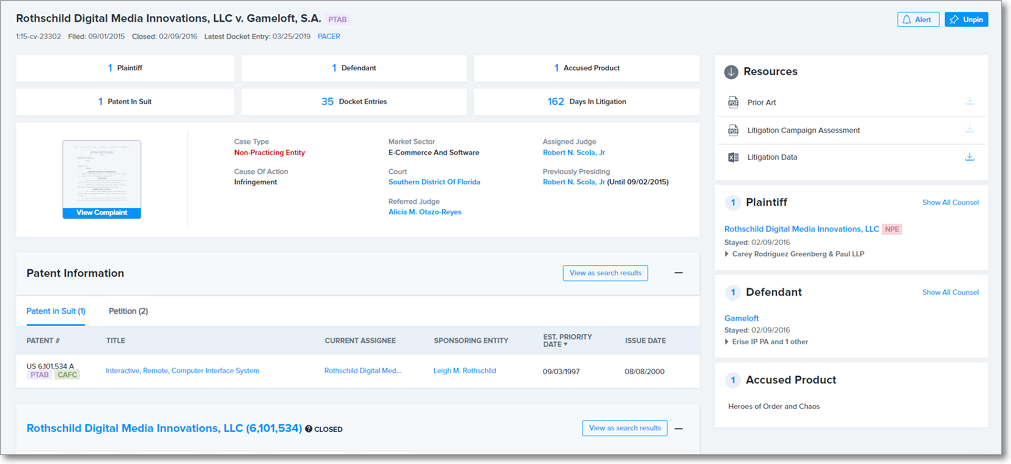 Campaign and Proprietary News
The Litigation Campaign section, powered by RPX's proprietary campaign grouping methodology, lists related cases and defendants as well as patents-in-suit and accused products from related cases. RPX's Litigation Intelligence team also tracks notable case events, such as Markman rulings, opinions and orders, and final outcomes, and writes news articles summarizing them—all of which are available on the litigation page.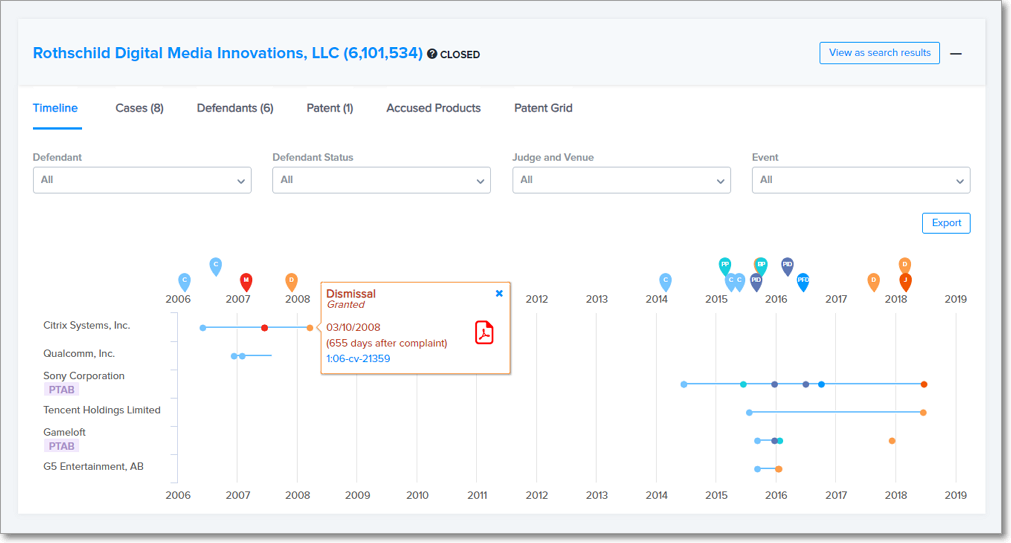 Document Full Text Search
When looking for specific language contained in documents, the ability to search them is critical. With full text search, now you can. Search within key district court documents including complaints, Markman orders, dismissals, jury verdicts, summary judgment orders, final judgment orders, and notices of appeal.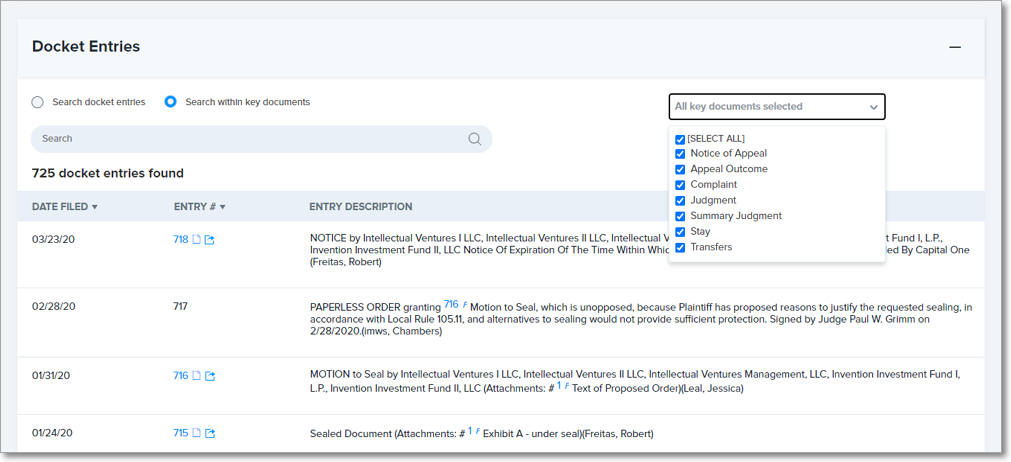 Patent Data
One Page. Full Context.
The patent page provides all the contextual information you need about a patent in a single place. Quickly find out whether a patent has been litigated (and if so, against which companies, products, and services) and whether it has been challenged before the PTAB. And of course, all the related district court cases and PTAB petitions are linked to their respective detail page, so you don't have to spend any time finding them. In addition to bibliographic information, such as the patent's abstract, claims, citations, and specifications, the patent page also includes the complete assignment history and links to assignment documents filed with the USPTO. RPX Insight also irons out data discrepancies related to the original assignee of the patent to tell you the correct "Sponsoring Entity" under which the invention covered by the patent was developed. Additionally, a timeline provides visual context on the assignment and litigation history of the patent.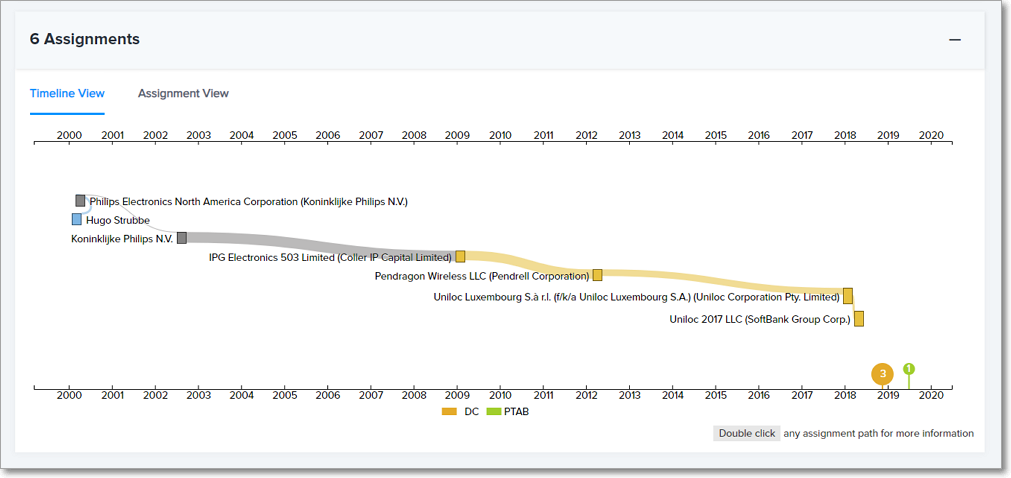 Assignment SEARCH
RPX Insight's Assignment Search allows you to quickly search and monitor over 8 million US patent assignments. Use a variety of filters and search fields, including recorded and executed dates, assignee names and types (including NPEs), assignor names, conveyance types, and litigation venues.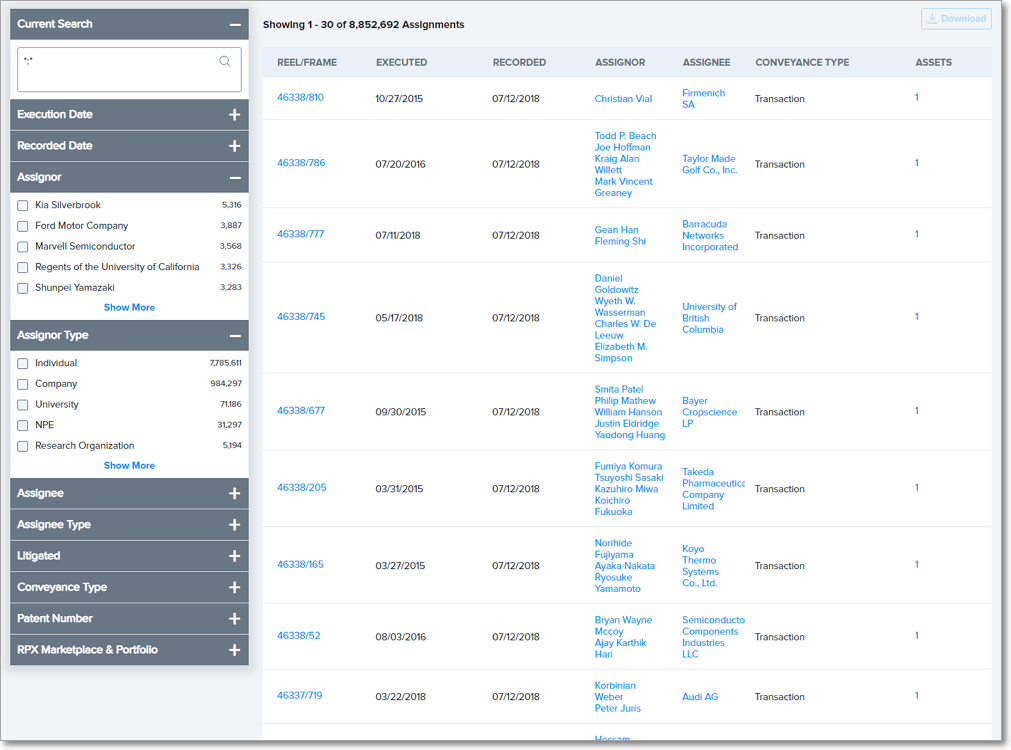 Campaigns
A Bird's Eye View of Related Matters
RPX's proprietary campaign methodology groups cases brought by the same plaintiffs on the same set of patents. The "Campaign Overview" provides background information and full context on the campaign summarized by RPX's Litigation Intelligence team. See all the defendants targeted by the plaintiff on a single timeline, with a clear indication of those that are currently active. Or simply view the list of defendants, cases, accused products, PTAB petitions Elite users and RPX members can also see major campaign events on each defendant's timeline, significantly cutting down the time in accessing key litigation documents. The events displayed on the timeline include:
• District Court Events: Complaints, Markman orders, dismissals, jury verdicts, summary judgment orders, final judgment orders, and JMOLs
• PTAB Events: Petitions, institution decisions, final decisions, terminations, and notices of appeal
• ITC Events: Complaints
• Federal Circuit Events: Notices of appeal, opinions, and judgments
• Chinese Litigation Events: Final judgments
Click on a campaign marker at the top to filter the defendants corresponding to the event. Or hover the cursor over a defendant marker to directly download the related PDF document. Use the drop-down filters above to see a narrower list of defendants based on their name, status, judge, court, or events.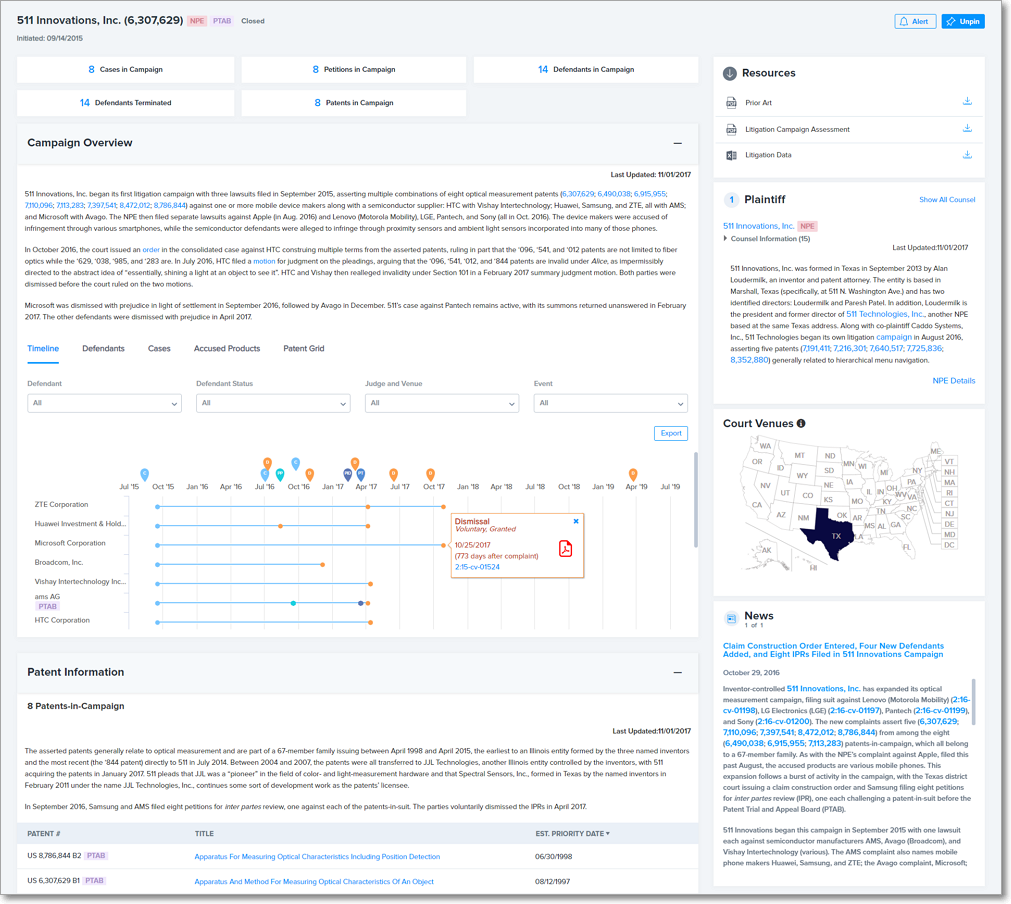 With the Patent Grid, RPX Insight saves significant time and effort by showing a mapping table that depicts which patents involved in the campaign were asserted against which defendants. The Patent Grid can also be downloaded in Excel.

Contextual Intelligence
RPX Insight is the only platform that provides manually researched background information on entities bringing notable campaigns. For campaigns assessed by RPX's Litigation Intelligence team, find out where the plaintiffs were incorporated, who their managers are, and whether they are part of a larger network of entities. View succinct synopses of the technical subject matter of the patents-in-campaign, as well as the patents' assignment and post-grant review histories. See all news articles pertaining to the campaign published by RPX, and a heat map showing the venues in which the campaign has been active.
Advanced Alerts
Daily Litigation Alert
With more than 10,000 subscribers, the RPX Daily Litigation Alert is the industry standard for daily email notifications on new filings. Start your day with an email on your desktop or mobile device listing all new district court cases as well as PTAB and ITC cases filed yesterday, along with party identification and case group by venue. See the patents-in-suit, case type (NPE or operating company), and RPX's market sector tags for each case. Direct links to each complaint or petition, case details page, and campaign page make further detail readily accessible.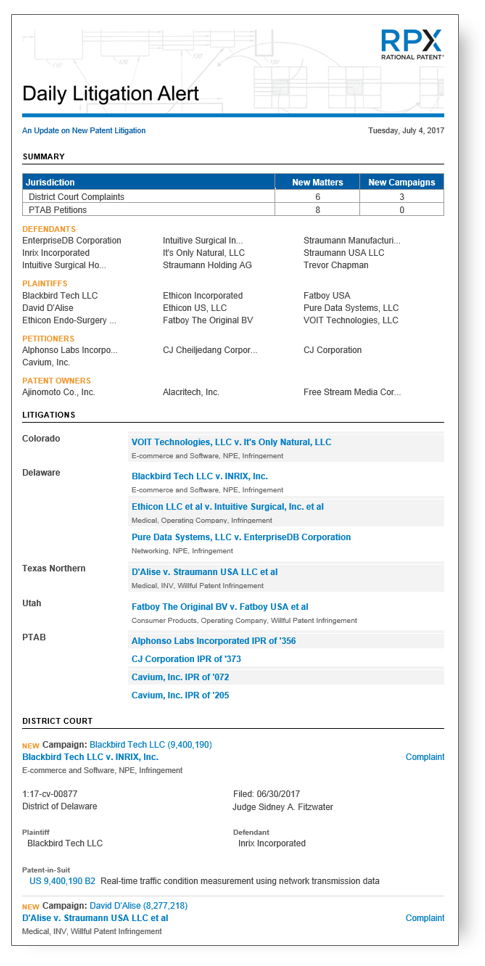 Custom Alerts
Get push notifications on new matters or filings in active matters with hourly, daily, or weekly custom alerts. Set up a custom alert from any entity, campaign, case docket (including PTAB and ITC dockets), law firm, market sector, or patent page. With advanced fine-tuning options that allow you to customize alerts to the level of each new docket entry, you will never miss a filing that could be critical to your litigation strategy. And with the option to be alerted whenever a new Litigation Campaign Assessment or Prior Art Search Report of your interest becomes available on RPX Insight, you can rest assured that you will always get the deepest level of insight in real time. .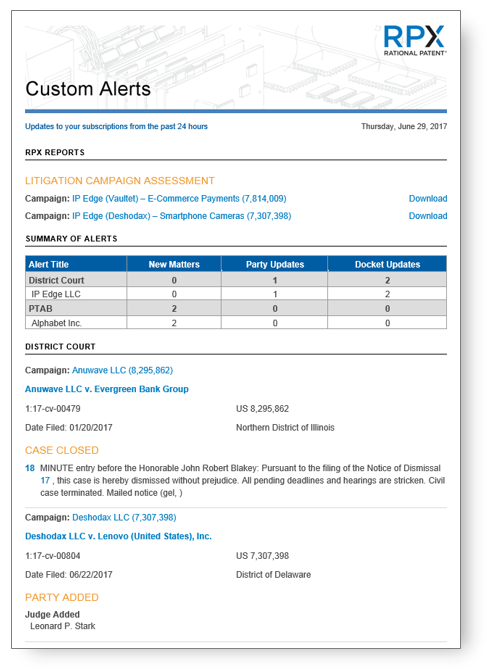 NPE Identification, Patents-in-Suit, and Accused Products
Know Who You're Up Against
RPX's ability to identify, study, and track non-practicing entities (NPEs) is unmatched in the patent space. Our entity investigation includes a thorough examination of state registry records, assignment records, corporate disclosure statements, financial statements, and entity websites. Through entity tags and search filters, RPX Insight makes it easy to know whether any given entity is a known NPE.

Discover the Entire Network
Through a comprehensive research process that has been perfected over the years, we not only identify NPEs, we also show corporate relationships among NPEs. This information, also characterized in greater detail in entity dossiers, could be crucial in understanding the full extent of the entity's monetization strategy.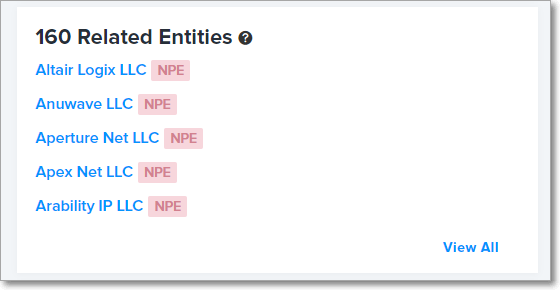 Patents-in-Suit and Accused Products
See patents-in-suit in the RPX Daily Litigation Alert as well as on case and campaign detail pages on RPX Insight. View the entire litigation history of patents asserted in litigation, and see a list of accused products and services.

Federal Circuit, PTAB, and ITC Dockets
Track Federal Circuit Appeals
Access over 6,000 Federal Circuit appeals originating from District Court, the PTAB, or the ITC. The Federal Circuit appeal pages on RPX Insight provide all the information you need in a single, unified view, including filing date, appeal status, originating case, case type, appellants, appellees, and much more. Search the docket for all documents filed and directly download them using monthly document credits, without having to go to PACER.

No More Government Databases
Access all PTAB proceedings and ITC investigations ever filed, with up-to-date information on each proceeding. Find the information you need instantly without searching through multiple databases. RPX Insight acquires, cleans, and cross-references all the data from the PTAB E2E System and the USITC EDIS, making it easy to get contextual information on every case, including key dates, judges, experts, underlying patents, related litigation campaigns, and related petitions. For PTAB petitions, real-parties-in-interest and privy parties are also identified.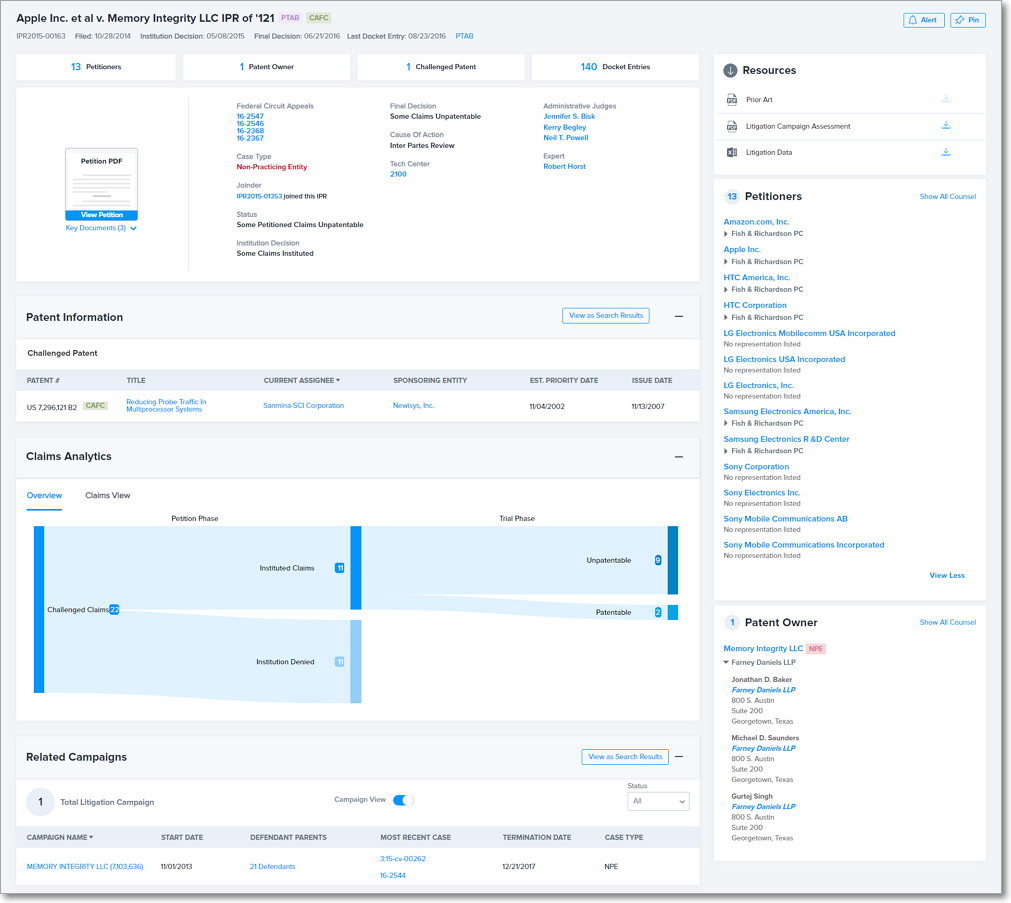 Access All PTAB and ITC Documents for Free
Search through all the PTAB and ITC docket entries and download any proceeding-related document, or search within key PTAB documents including the patent owner mandatory notice, petition, institution decision, final decision, termination, and notice of appeal. All PTAB and ITC documents are completely free to download and do not count towards monthly document credits.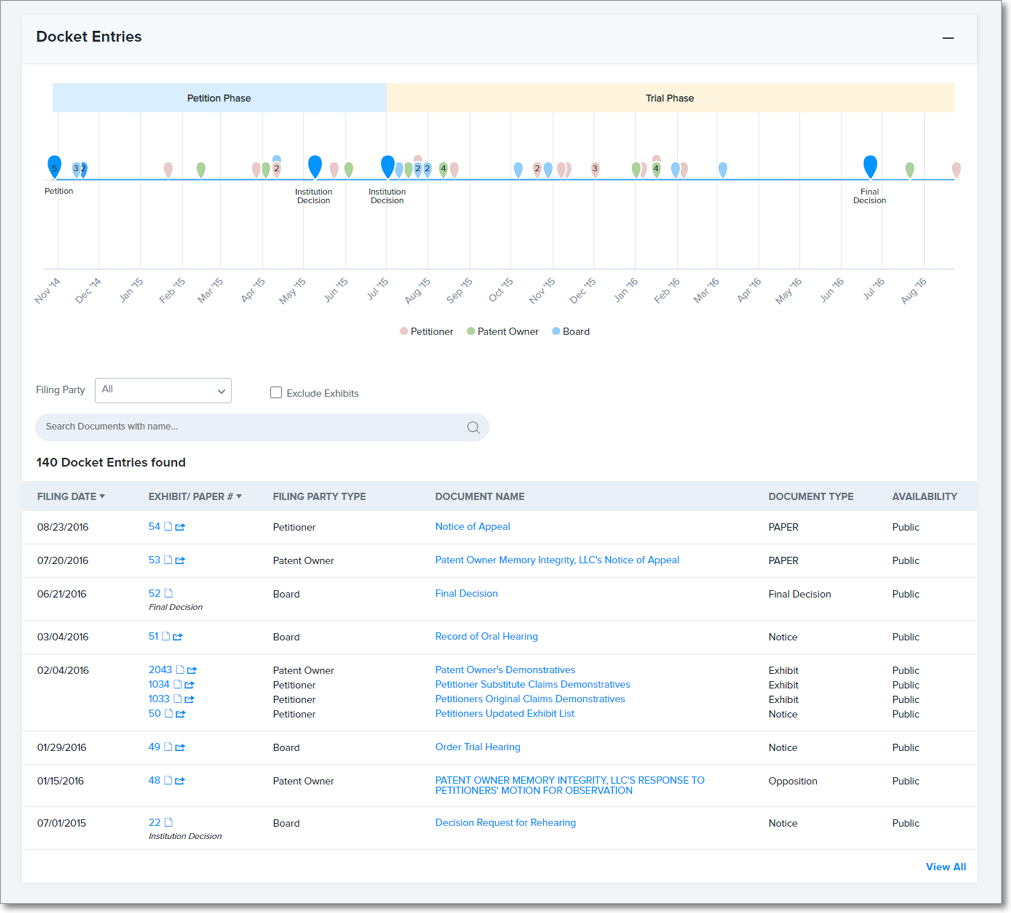 Judge, Venue, and Law Firm Statistics
---
Formulate a Winning Strategy
RPX Insight provides key statistics and analytics on all the district court judges and venues, which can help you estimate your odds of success as you formulate your litigation strategy. See a visual breakdown of transfers, stays, summary judgments, and JMOL orders by grants, partial grants, and denials. Filter by market sector, filing party role, case type, motion subtype, or order date. In addition, view and search through a list of all lawsuits for any judge or venue.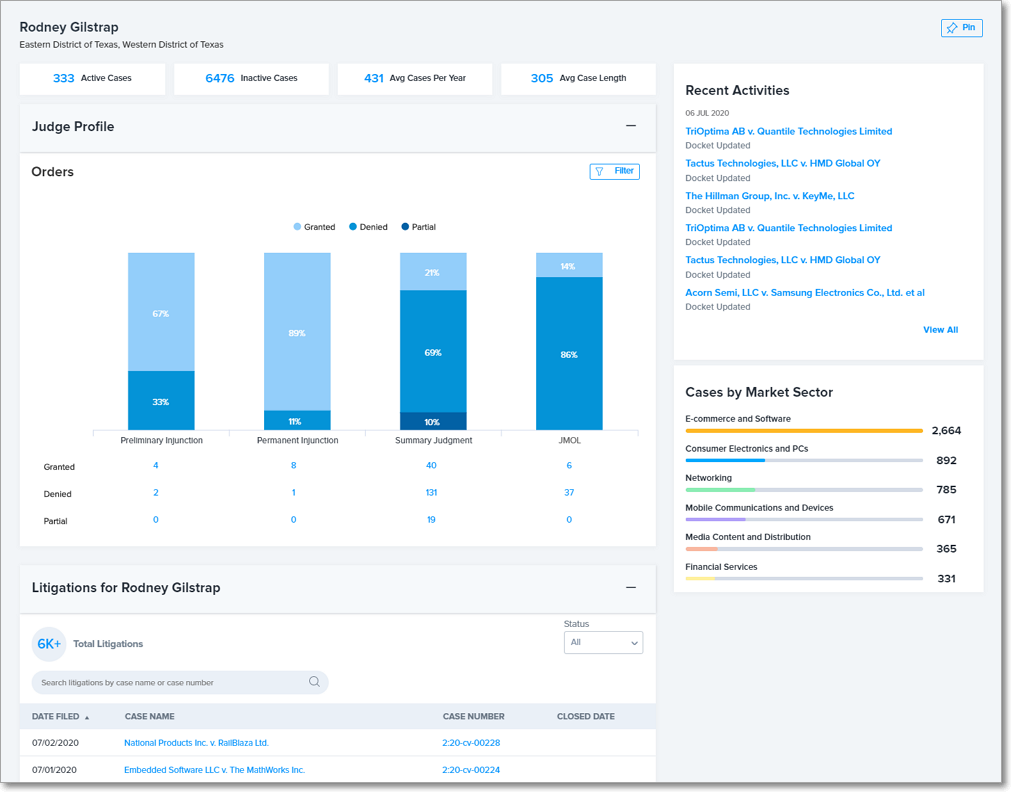 Know your Outside Counsel
Gain a thorough understanding of the law firm handling your case or representing your adversary in litigation. RPX Insight provides key metrics on firms, including number of cases where a firm has represented an NPE, or has been lead counsel, as well as top parties represented, judges, and venues. See a complete list of cases and click on any category in the law firm profile to filter the cases below.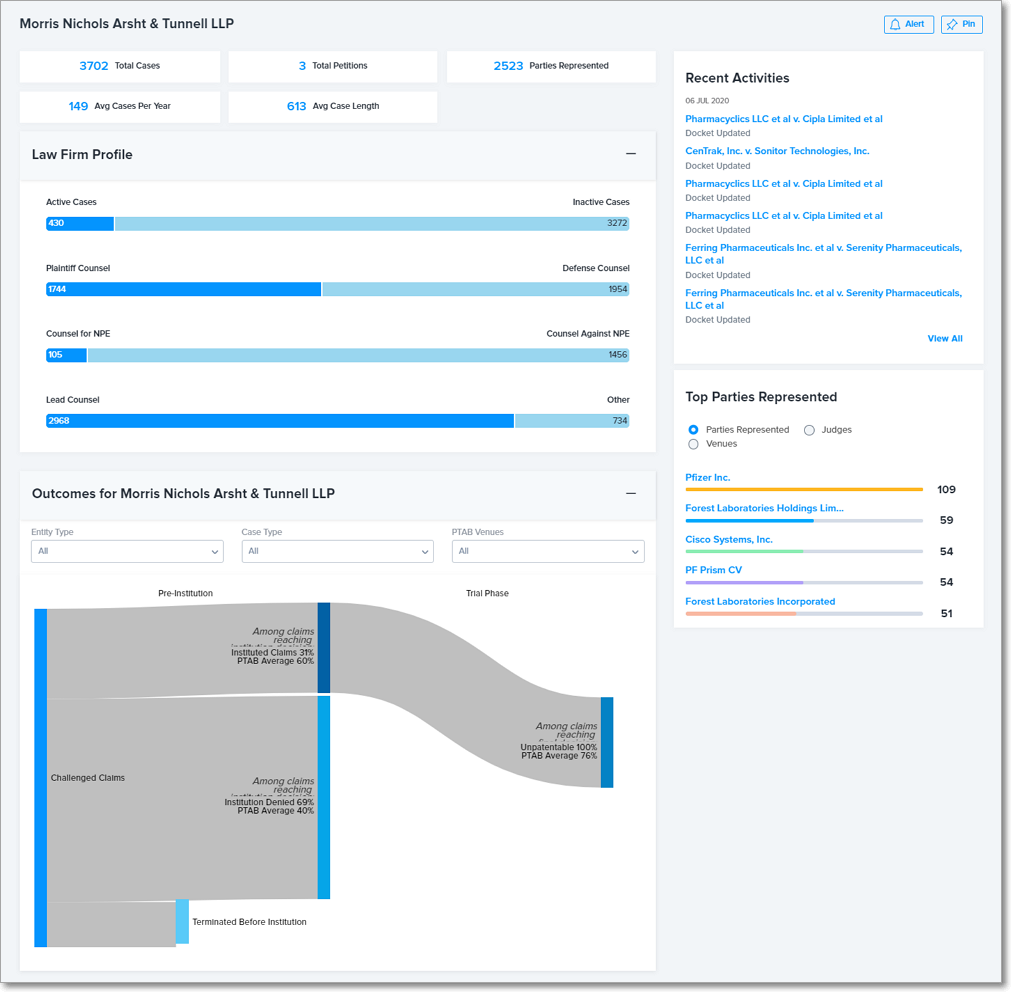 Chinese Patent Litigation
Patent litigation in China has become an unavoidable prospect for many as a series of systemic reforms—and the temptation of readily available injunctive relief—have helped turn Chinese courts into increasingly attractive forums for patent plaintiffs. To complicate things further, litigation data is rarely available and difficult to turn into actionable intelligence, making it tough for companies to assess their risk in China. Data and intelligence are core to how RPX has brought transparency, rationality, and efficiency to the US patent market. With this integration of Chinese litigation data into RPX Insight, we're taking further steps to make patent litigation a more transparent process—no matter the venue.
Litigation Results
Dive deep into over 22,000 Chinese patent cases closed since 2006 by viewing judgement documents or quickly get up to speed on cases in the overview section. Also find text translations, party and counsel information, detailed outcomes, and judge facts.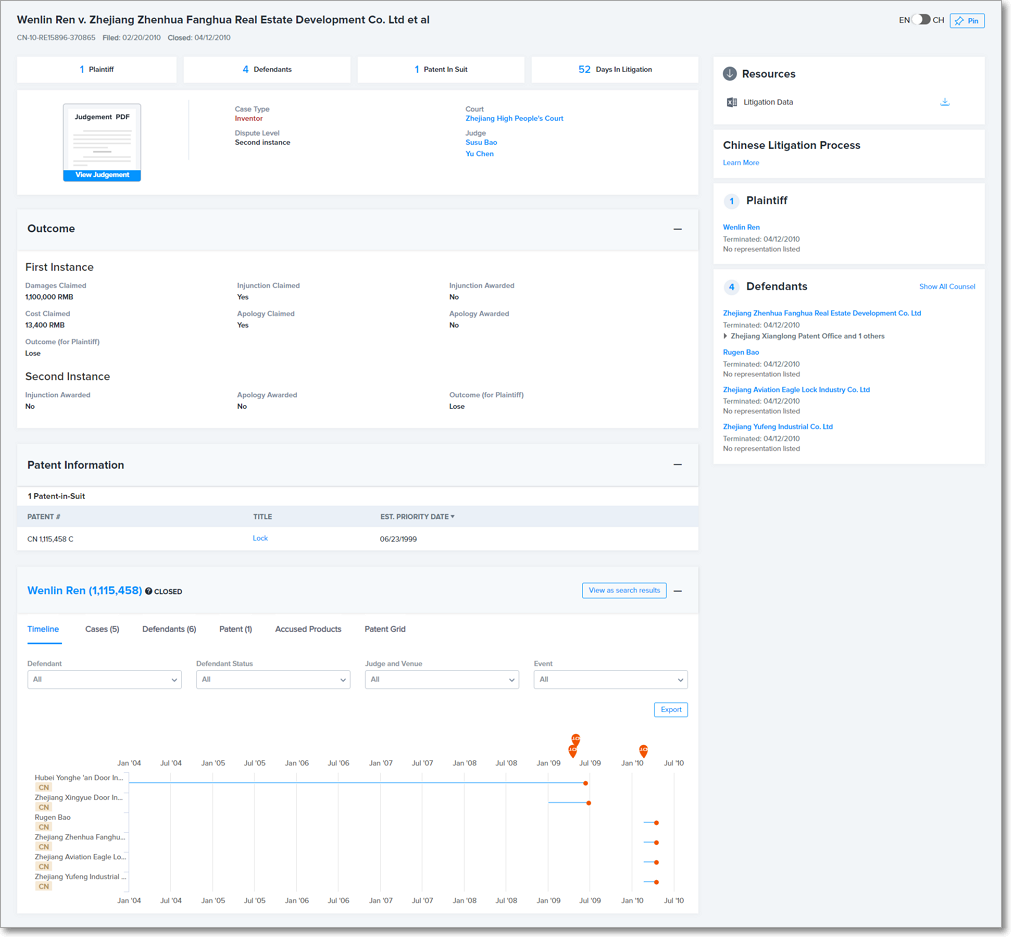 Visualize the Data
With a dedicated section under Visual Analytics, explore key metrics including the composition of caseloads for Chinese courts, as well as win rates and remedies at a system-wide-level.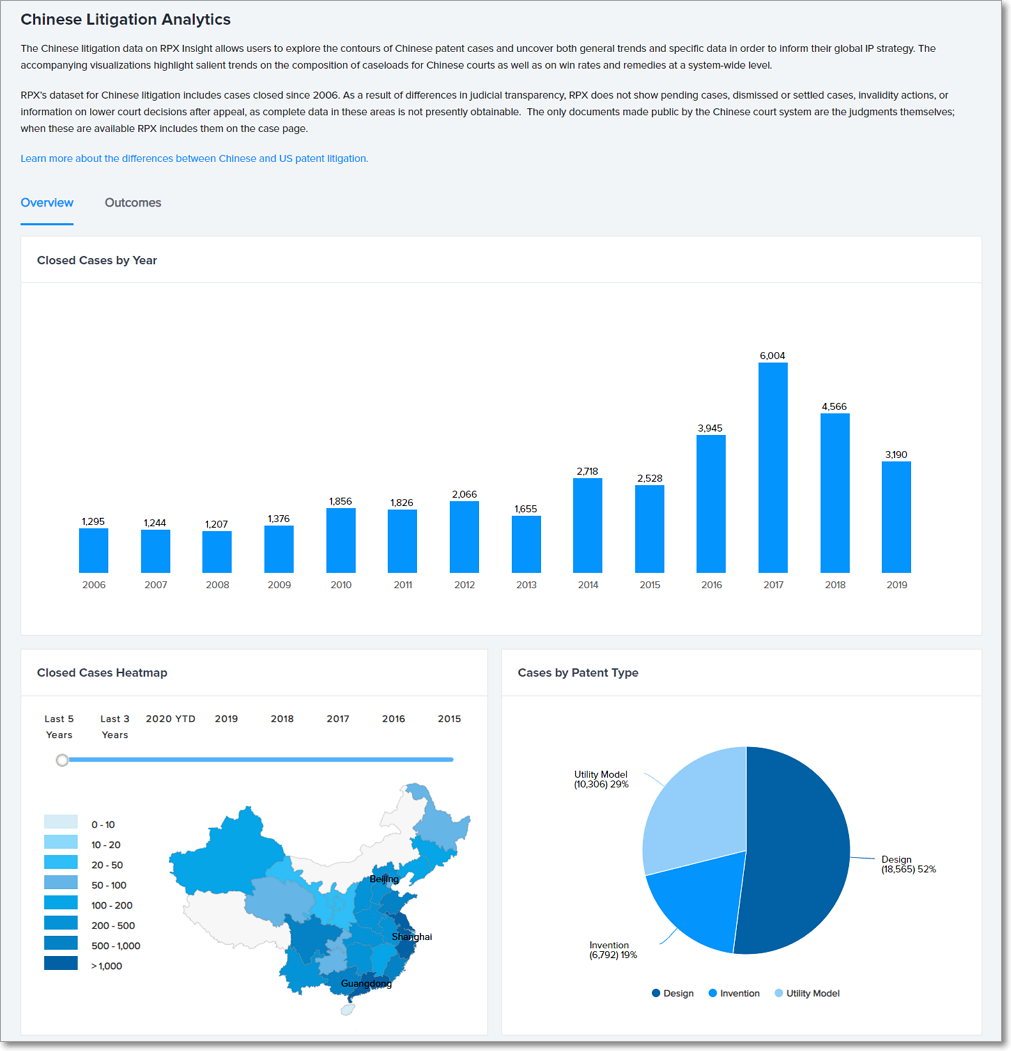 RPX's dataset for Chinese litigation includes cases closed since 2006. As a result of differences in judicial transparency, RPX does not show pending cases, dismissed or settled cases, invalidity actions, or information on lower court decisions after appeal, as complete data in these areas is not presently obtainable. The only documents made public by the Chinese court system are the judgments themselves; when these are available RPX includes them on the case page. Learn more about the differences between Chinese and US patent litigation.
NPE Intelligence
Entity Dossiers
RPX is the only patent litigation information services provider that participates in the market firsthand. RPX's Litigation Intelligence team comprises experienced patent professionals who have a deep understanding of the modus operandi of NPEs, through years of conducting in-depth research as well as, in some cases, directly dealing with them in litigation. We identify, study, and track NPEs by conducting an extensive review of state registry records, assignment records, corporate disclosure statements, court filings, financial statements, entity websites, and independent news sources. We then compile all of this information in the form of entity profiles and news updates that are particularly useful for in-house legal counsel or outside counsel in developing a response strategy. Click the "Dossier" button on the top right corner of an NPE's entity page to download a PDF dossier on the entity. Customize the dossier by selecting one or more available sections, including entity profile, known related entities, news, litigation history, and patent portfolio. Or request an update to an NPE's profile, or a new profile if one does not already exist.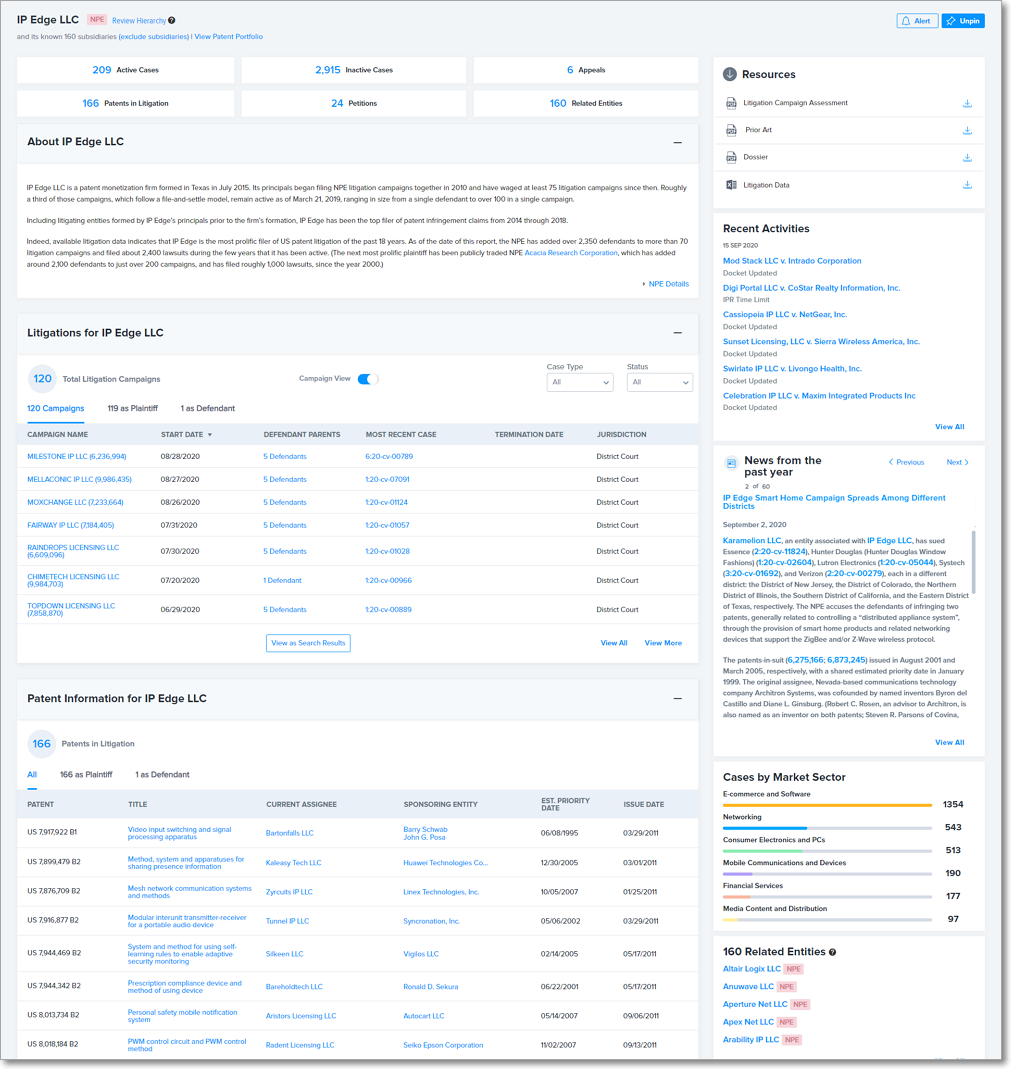 Litigation Campaign Assessments
RPX's Litigation Campaign Assessments (LCAs) provide the easiest way to get quick insight into an NPE litigation campaign. LCAs include an introduction to the plaintiff(s) in the campaign, the patents asserted, and key events from any related past litigation. All this insight is synthesized and presented in a single-page document that is easy to read or print.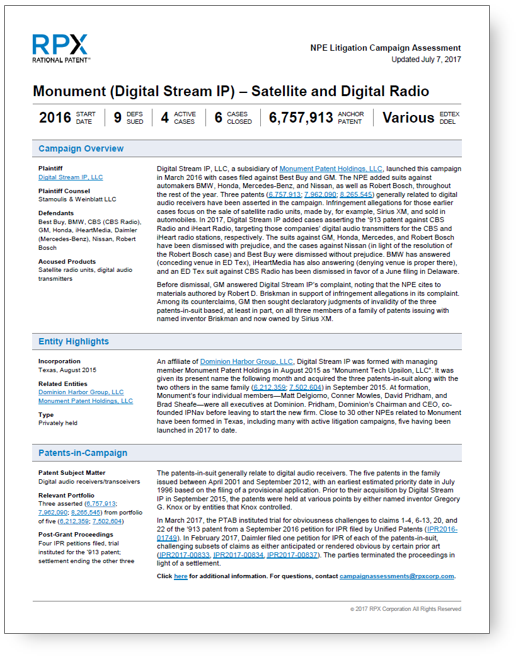 Monthly NPE Update
Receive an overview of NPE activity during the previous month via email. Read a quick summary, or see charts on monthly trends, lists of top plaintiffs and defendants, and top news articles published by RPX. Or simply download the detailed report in PDF format from RPX Insight, with lists of active campaigns, all lawsuits filed with defendant names and accused products, and all patents litigated during the previous month. All relevant entities, campaigns, lawsuits, and patents are hyperlinked back to RPX Insight so that you can easily gather additional context.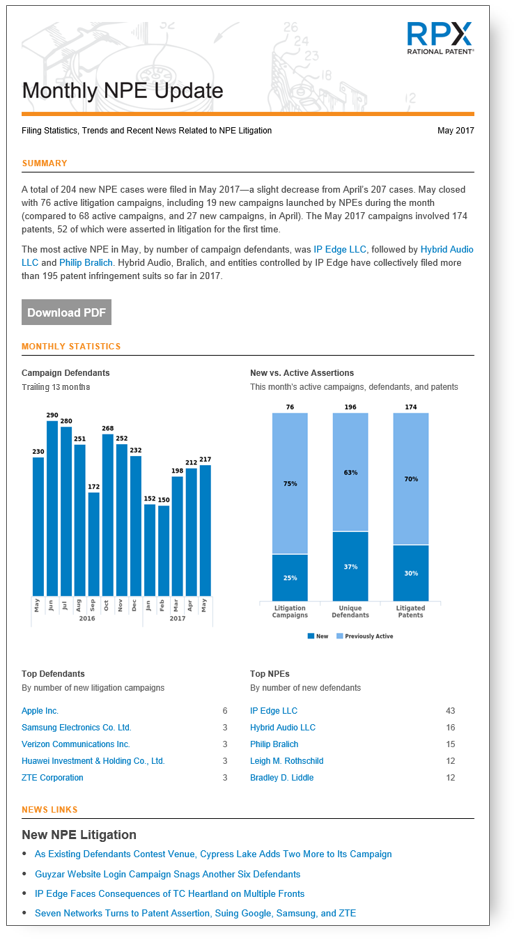 Excel Data Downloads
Customize and Download Case or Patent Data in Excel
Export data from the top right corner of any campaign page, case docket page (including PTAB and ITC dockets), litigated patent page, or litigation or patent search results page. Customize your report by dragging and dropping any number of available fields: docket details, party names, bibliographic information on patents-in-suit, or counsel. Or simply select all the fields under any category. You can also further customize your report by reordering your selected fields. Then download your Excel report, or email it to yourself to access later.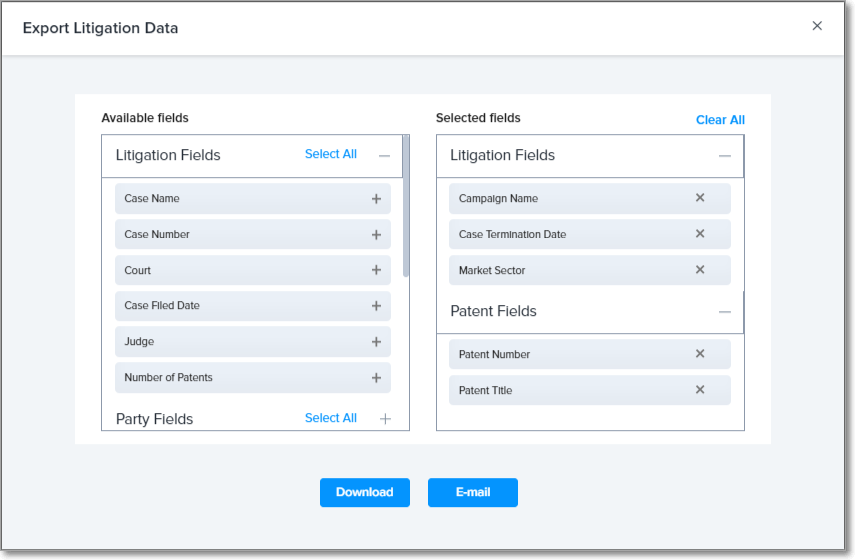 PTAB Analytics
SIMPLY THE BEST PTAB ANALYTICS TOOL
With our new PTAB Analytics tool, you can see the filing trends as well as detailed statistics on parties, law firms, and judges. Visualize detailed outcomes at institution decision and final written decision, as well as cancellation rates or petitioner/patent owner friendly rates – at the claims level, petition level, or patent level. Apply a host of global filters to drill down down even further or compare multiple petitioners, patent owners, or law firms. Easily switch to the petitions or patents from any visualization to see the underlying data.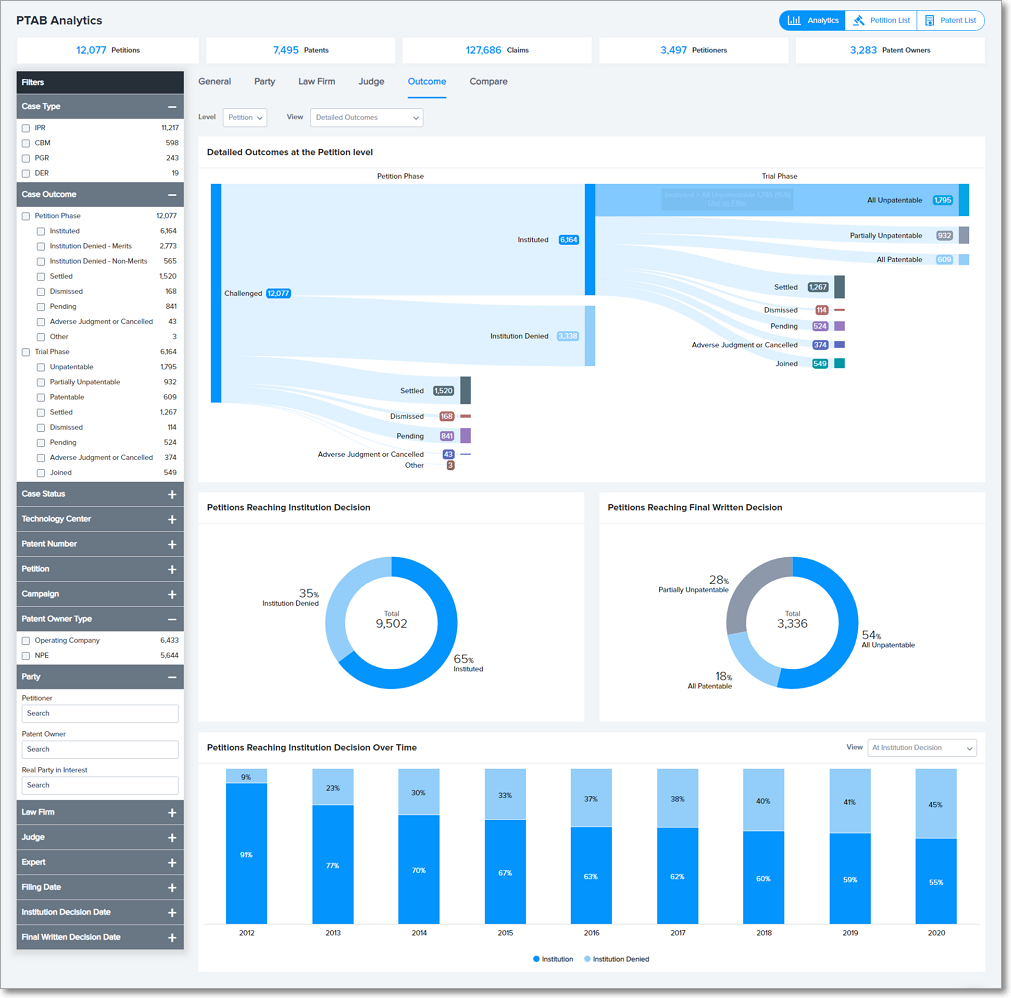 Visual Analytics
Analyze Trends Across Custom Sectors
Access visualizations on district court litigation, PTAB petitions, and patents across all or RPX-curated sectors, or create your own custom sector based on a selection of defendant names, defendant industry codes, or CPC codes of underlying patents.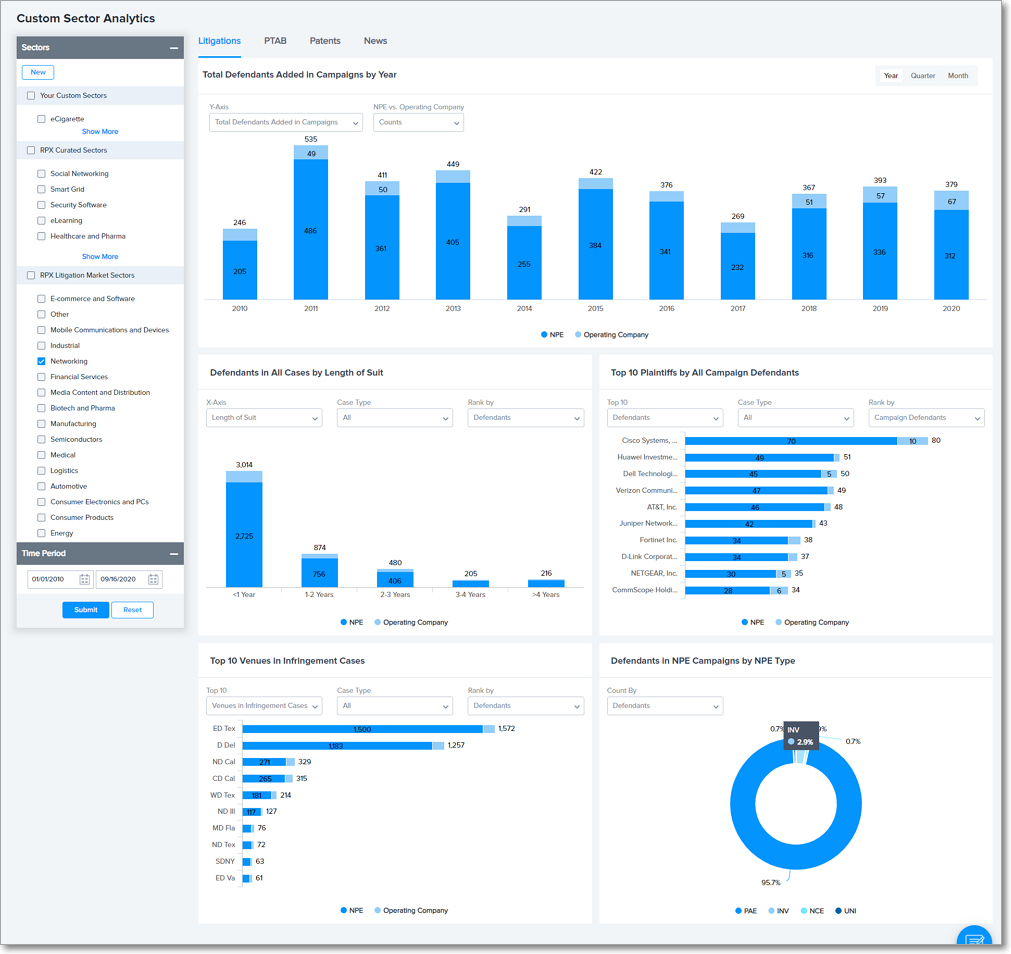 Visualize Litigation Data on Entities
Select one or more plaintiffs or defendants on the Party Analytics page to visualize historic data on litigations. See year-by-year litigation trends at an aggregate level, or compare between defendants. Filter cases by jurisdiction or case type. See a detailed bubble chart over time by selecting the y-axis, bubble color, and bubble size to build tens of combinations—each bringing a unique perspective.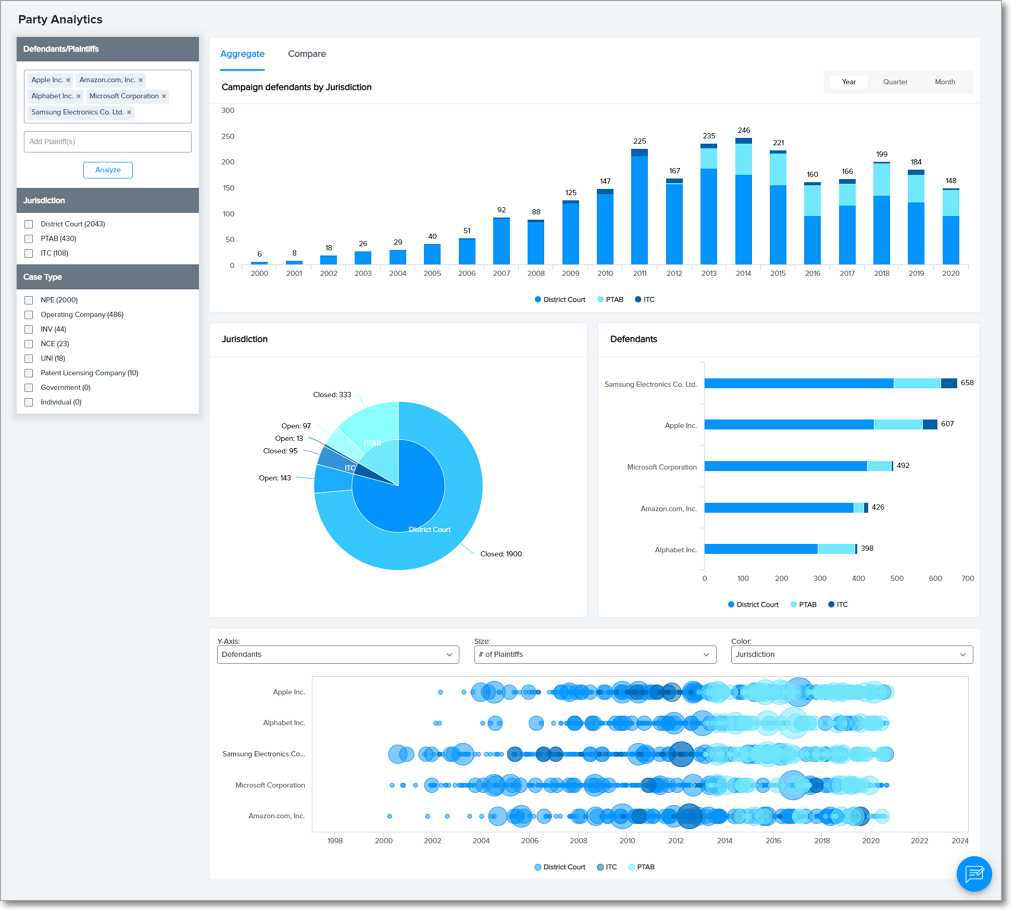 Prior Art Search Reports
---
Utilize RPX's Prior Art Search Program
RPX's Patent Analysis team systematically performs prior art searches and generates preliminary prior art reports for patents asserted by NPEs. RPX's prior art search process, which has been refined over several years, involves comprehensive searches through patent and non-patent literature, multiple review iterations, and a clear final presentation of search results.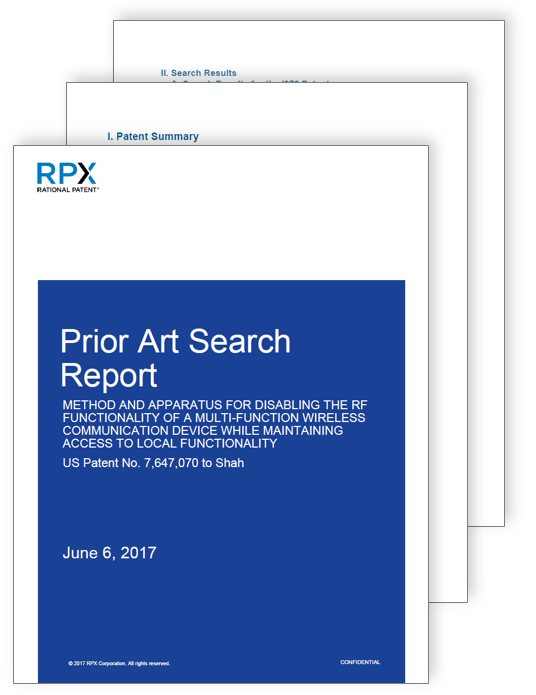 Multiple Ways to Access Prior Art Search Reports
All prior art search reports are available on the Prior Art Search Reports page. Alternatively, you can download a prior art search report from the top right corner of the patent page, or any other detail page on the related case docket (including Federal Circuit, PTAB, or ITC dockets), entity, or campaign.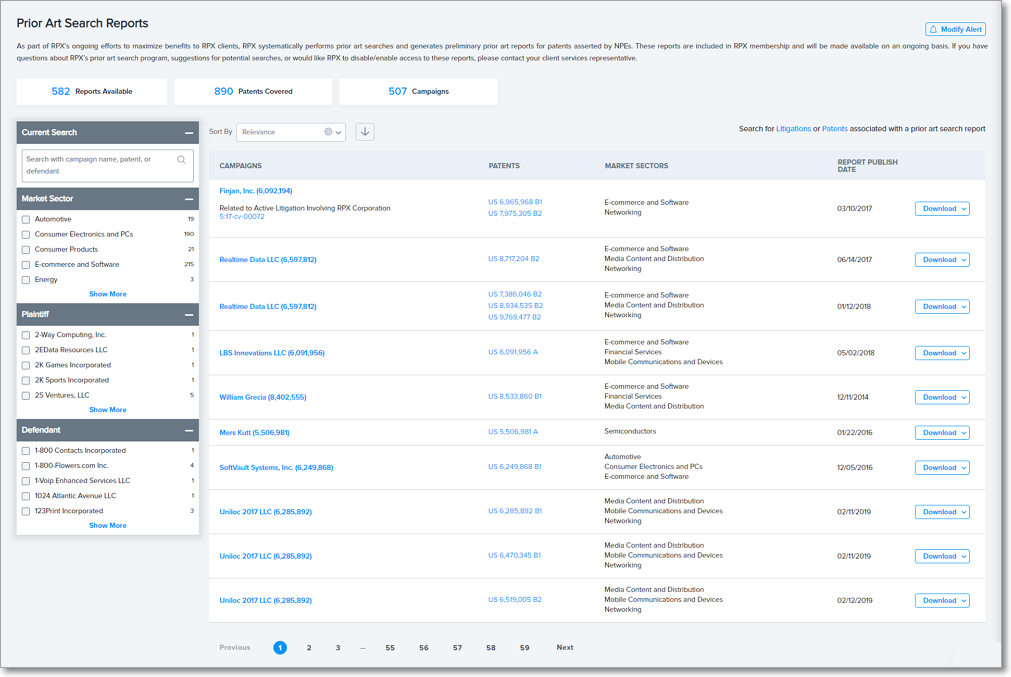 Marketplace
---
Search Patents Offered for Sale
RPX is one of the largest, most active patent buyers in the patent market, spending more than $2 billion on patent assets to date. So patent sellers often turn to RPX after being approached by NPEs wanting to purchase their patent assets. The Marketplace section on RPX Insight provides access to patent portfolios offered in the open market or in private. Browse or search through all acquisition opportunities, filter by technology area, or download all available acquisition opportunities in Excel format.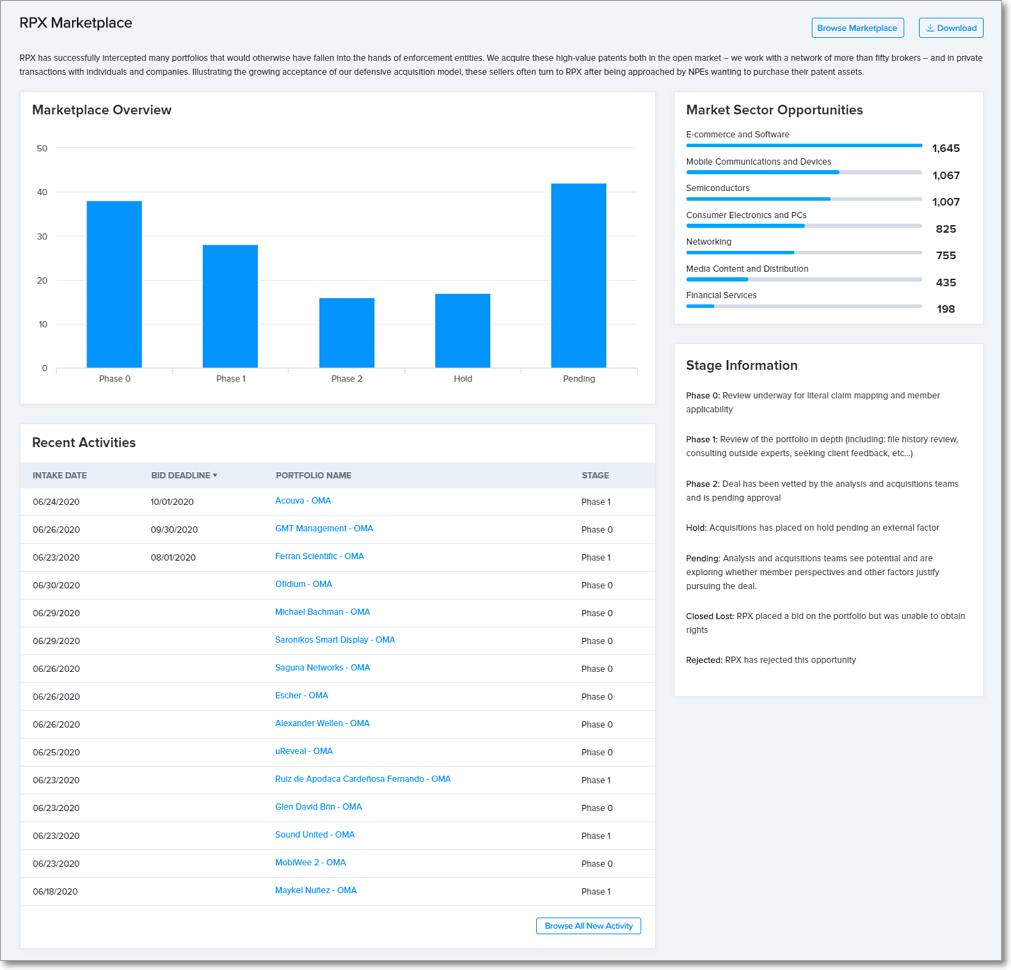 Learn More About Each Acquisition Opportunity
For each acquisition opportunity, find all the information you need on its acquisition opportunity page. View the complete list of patents, their current and past assignees, representative claims, technology tags, and seller or broker details.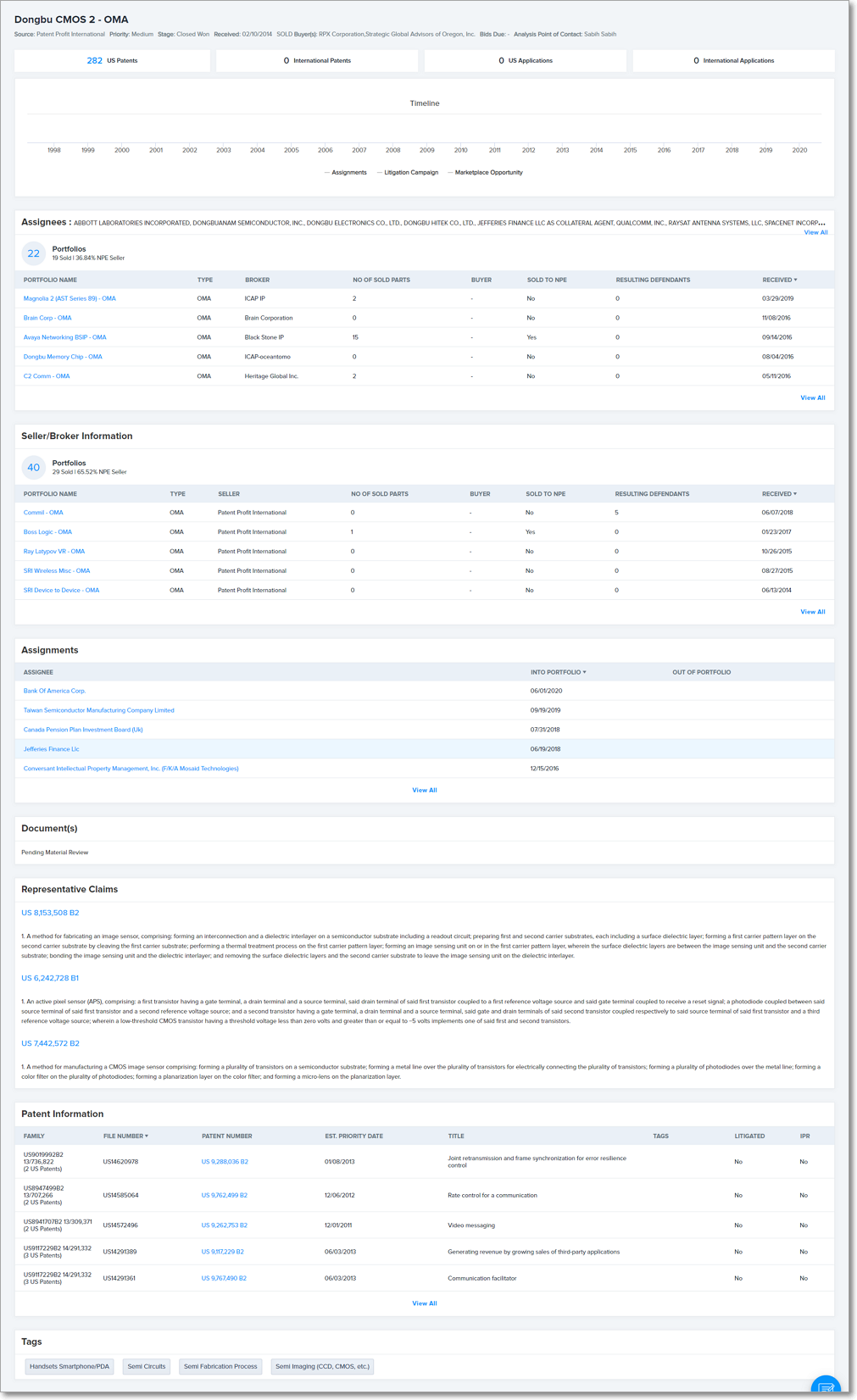 RPX Portfolios and Fast Facts
View Patent Portfolios Acquired by RPX
RPX has successfully intercepted many portfolios that would otherwise have fallen into the hands of enforcement entities. We acquire these high-value patents both in the open market—we work with a network of more than 50 brokers—and in private transactions with individuals and companies. The Portfolio section on RPX Insight allows users to view all the patent portfolios to which RPX has acquired rights.
Learn More About Each Portfolio
Browse or search through all the portfolios, or filter by primary market sector, technology area, acquisition type, or RPX acquisition date. For each portfolio, find all the information you need on its portfolio page. View the source of the portfolio, a written overview of the deal, and a complete list of assets and their past assignments, representative claims, and technology tags.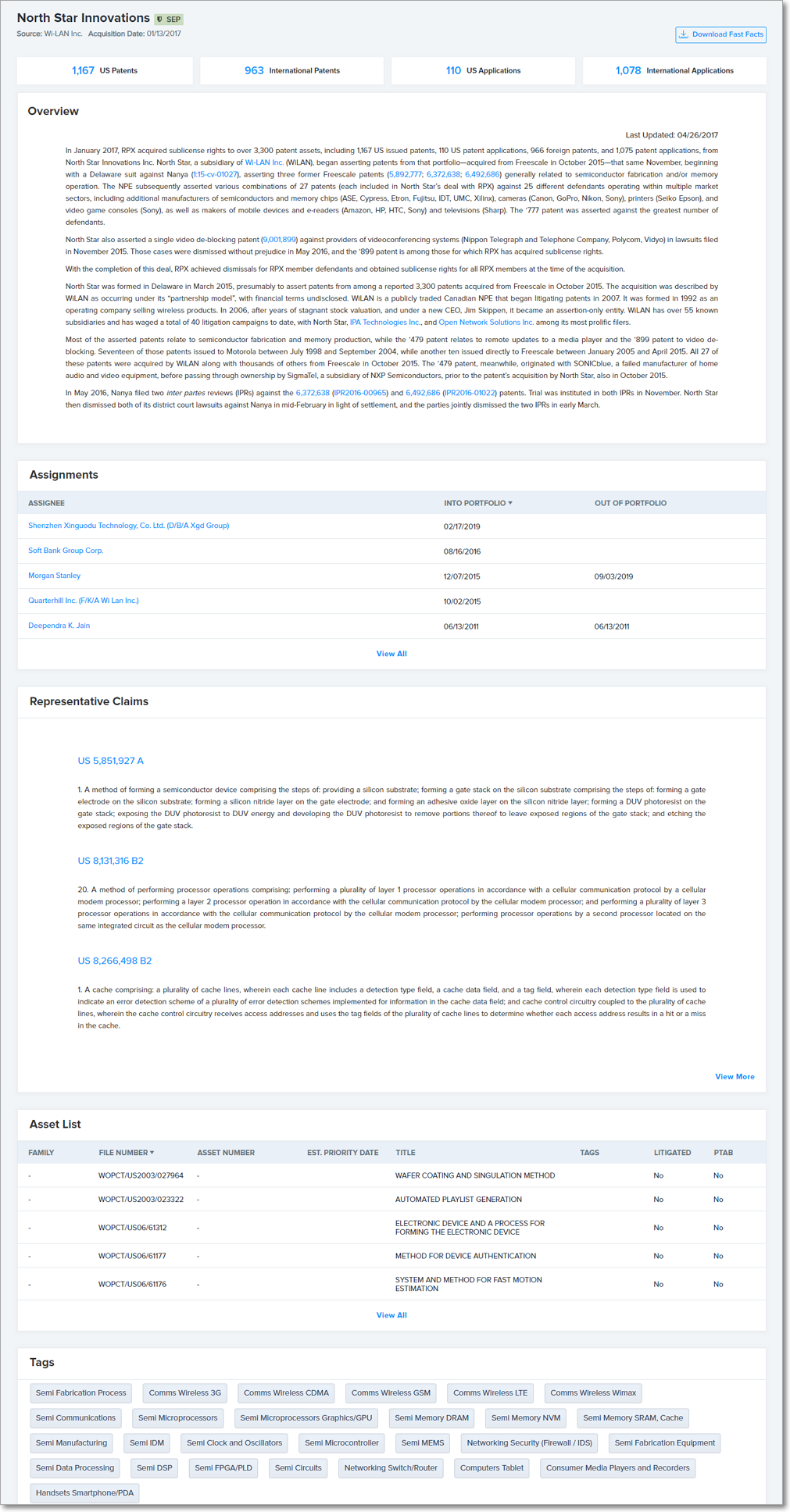 Download Fast Facts
View a downloadable and printable one-page summary of each portfolio acquired by RPX, called "Acquisition Fast Facts". Read the acquisition overview with details on the primary market sector, related products/services, and noteworthy litigation events. Learn about the grantor entity, including its formation, management, and any related entities. And see a summary of the technology covered by the portfolio assets, as well as their assignment and post-grant review histories.