Judge Albright's Place Atop the List of Busiest US Patent Judges Threatened by New West Texas Order
Western District of Texas Judge Alan D. Albright has been the nation's top patent judge since Q1 2020, but a major new change may soon bring that controversial status to an end. Until last week, West Texas filing rules allowed plaintiffs to pick their division, guaranteeing that they would get the famously plaintiff-friendly Judge Albright when filing in Waco (where he is the only district judge). However, on July 25, Chief District Judge Orlando L. Garcia issued a targeted standing order establishing that all patent cases filed in the Waco Division will be randomly assigned among 12 of West Texas's district judges, including Judge Albright. The new order all but ensures that Judge Albright's patent caseload will soon drop significantly.
Judge Albright Seeks to Create a Specialized Patent Venue—Triggering a Surge in W.D. Tex. Litigation
Judge Albright, a former Bracewell patent litigator, expressed an early eagerness to tackle patent cases when he joined the bench in late 2018—recognizing that the federal judiciary's relative lack of judges with patent experience, at least at the district court level, created an opportunity. While the Federal Circuit has evolved into a specialized appeals court for patent matters, comparatively few district judges have extensive familiarity with such cases, including substantive issues (such as the need to develop a deep understanding of the technology at issue) and procedural quirks (such as the Markman process). This has arguably contributed to the concentration of litigation in venues that do have such a background—especially, by 2018, those in Delaware and California, in the wake of the Supreme Court's 2017 TC Heartland decision limiting patent venue against corporate defendants. Judge Albright positioned his courtroom as a "safety valve" for those districts' overloaded patent dockets, making a point of fashioning rules designed to streamline and speed up patent cases based on feedback from a "committee" comprised of both plaintiff- and defense-side patent litigators.
In a move that has since proven controversial, Judge Albright also openly sought to attract patent cases to his district—including via outreach to IP industry trade groups and in various media appearances. Indeed, as noted in a recent retrospective, he has said that he took his position because he thought Waco was "perfect place to try and establish a serious venue for sophisticated patent litigation", and even gave a presentation to the American Intellectual Property Law Association titled, "Why You Should File Your Next Patent Case Across the Street from the 'Hey Sugar'" (a reference to a candy store near his courthouse).
The result of these and other practices (as detailed further below) was a dramatic surge in patent litigation filed in the Waco Division. While the Western District was not a frequent venue for patent plaintiffs prior to Judge Albright, seeing no more than 100 defendants added to litigation each year—and typically much fewer—from 2010-2018, filings began to pour into the Waco Division after his September 2018 confirmation. By Q1 2020, West Texas became the top destination for patent suits—overtaking the District of Delaware, which had long been the top district as a result of TC Heartland.
Patent Litigation in W.D. Tex. (Defendants Added to Campaigns, 2010-2022 YTD)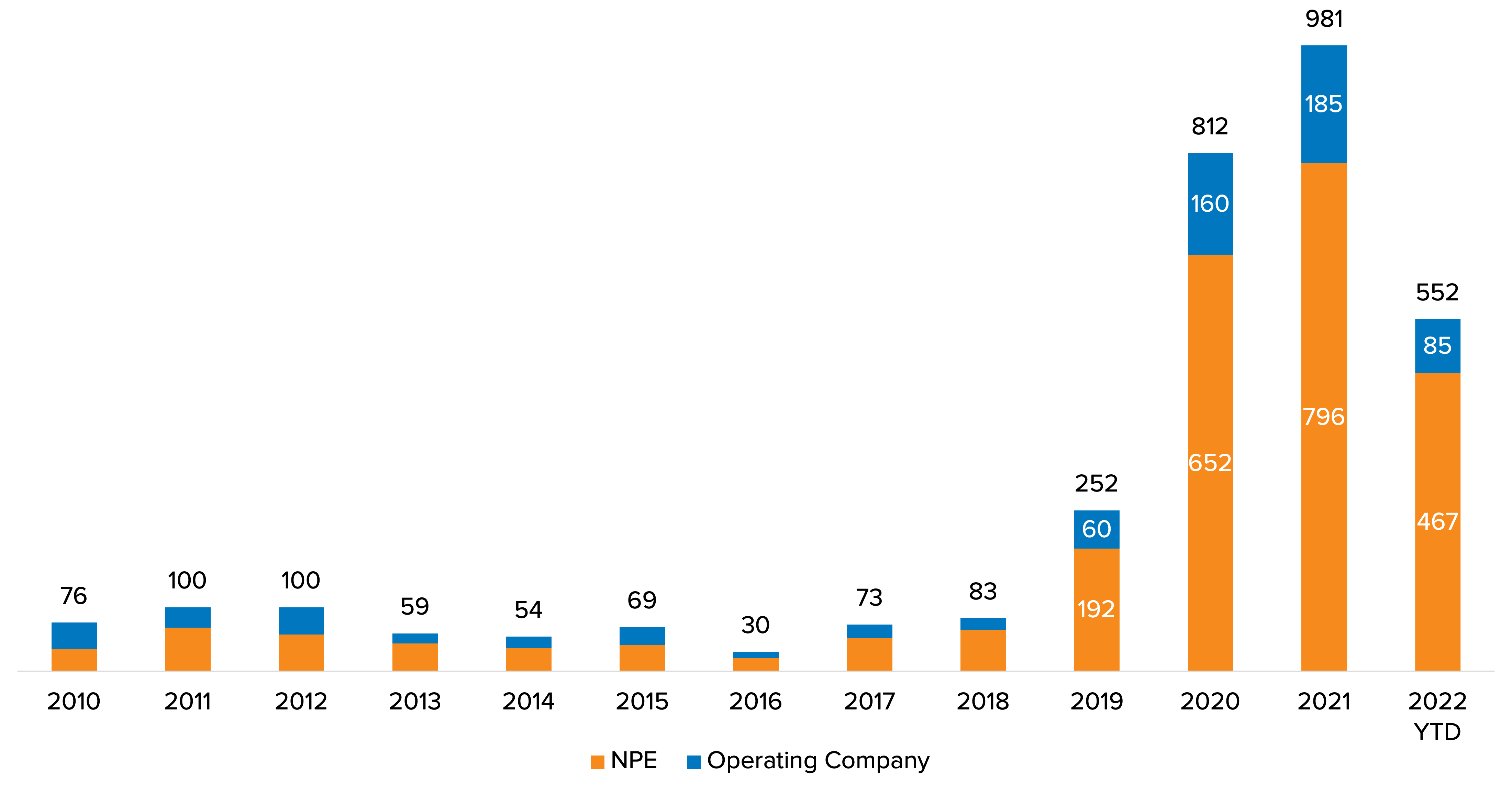 Substantive Practices Attract Plaintiff Interest, but Not Without Procedural Downsides
Judge Albright's courtroom also became a sought-after destination due to a variety of plaintiff-friendly practices—including an overriding belief in patent plaintiffs' right to jury trials, which has led to both a focus on getting cases to trial quickly, as well as an aversion to staying cases pending the outcome of Patent Trial and Appeal Board validity challenges; and an inclination against granting early patent eligibility motions under Alice.
Perhaps the best-known of these plaintiff-centric practices, though, has been Judge Albright's tendency to go to great lengths to avoid transfers out of his district based on convenience, setting a high bar for defendants seeking that relief. In the summer of 2020, his reluctance to grant convenience transfer motions began to draw Federal Circuit ire. A trickle of mandamus reversals that year became a wave in 2021 as the appellate court flagged a series of recurring legal errors. Yet Judge Albright gave increasingly strong signals that he would not adjust his approach. Indeed, by the time the year came to a close, the court had reversed Judge Albright's transfer rulings on mandamus a full 18 times, with nine of those reversals occurring in the fourth quarter alone.
While that wave has slowed in 2022, one recent opinion—only the second such reversal by the Federal Circuit this year—suggests that Judge Albright's approach is still not to the court's liking. On May 26, the Federal Circuit held that Judge Albright erred by denying Apple's motion to transfer a case filed against it by BillJCo LLC, despite his use of revised arguments that cited the appellate court's prior mandamus rulings against him, concluding that he had made a similar set of legal errors in his application of the relevant factors. Among those repeated errors were his characteristic emphasis on his district's quick time to trial for the "court congestion" factor, notwithstanding his newfound reliance on actual trial timing statistics versus speculative, scheduled dates; and his overemphasis on a defendant's general presence in a district for the "local interest" factor, rather than focusing on acts related to the "events that gave rise to a suit". On July 29, the Federal Circuit denied the plaintiff's petition for en banc and panel rehearing. More details on the court's May decision can be found on RPX Insight.
Additionally, the growth of Judge Albright's patent docket, ever stickier due to his posture against transfers, has had other consequences on the procedural side. In particular, Judge Albright became known for letting convenience transfer motions sit undecided while the court moved on to other substantive matters, as long as eight months in some cases. Such delays can be particularly impactful in a court known for getting to Markman and trial relatively quickly, leading several parties to file mandamus petitions asking the Federal Circuit to force him to rule. The appellate court criticized that tendency toward delay with increasing firmness in a series of mandamus rulings culminating in March 2021, ultimately concluding that some of those delays had been both "egregious" and counter to precedent. Those rulings prompted a procedural concession from Judge Albright, who issued a new standing order later that month establishing that he would rule on pending interdistrict transfer motions prior to the Markman hearing—albeit, while imposing a requirement that parties remind him if he had not yet issued a decision. However, other tendencies possibly also caused by the overcrowded nature of Judge Albright's docket have remained—including his characteristic behavior of issuing claim construction orders that include no written analysis explaining the court's reasoning.
Judge Albright's Practices Attract Scrutiny
Judge Albright's handling of convenience transfers, as well as his outreach to plaintiffs and the resulting rush of litigation, have also attracted the attention of both Congress and the federal judiciary. Last November, Senators Thom Tillis (R-NC) and Patrick Leahy (D-VT) wrote to Chief Justice John Roberts, in his capacity as presiding officer of the Judicial Conference of the United States, complaining that Judge Albright's work to attract patent cases was "unseemly" and decrying the "extreme concentration of patent litigation in one district" that has resulted. They also raised concerns over the Western District's divisional filing rules, which as noted above permit plaintiffs to file directly in their desired division—which allows litigants to effectively pick a judge when the division has just one (as is the case in Waco with Judge Albright). The senators asked for a study on abuses of this practice.
In mid-December, at the direction of Chief Justice Roberts, Eastern District of New York Judge Roslynn Renee Mauskopf responded to the senators in her capacity as director of the Administrative Office of the United States Courts, stating that the Judicial Conference "strongly supports" random case assignments and informing them that the Committee on Court Administration and Case Management would study the issue further. Chief Justice Roberts then addressed the issue in the Supreme Court's 2021 Year-End Report on the Federal Judiciary, writing in part that judges could "work in partnership with Congress in the event change in the law is necessary".
Judge Garcia's Standing Order—and What Comes Next
As mentioned above, Chief Judge Garcia's new standing order applies specifically to patent cases filed in the Waco Division, randomly allocating cases that would have otherwise come before Judge Albright to a group of 12 judges—the group including Judge Albright, ten of the Western District's 11 other district judges, and Senior District Judge David Ezra.
As shown below, just two of the other judges listed in the order have presided over a significant amount of patent litigation: District Judges Lee Yeakel, who has overseen patent cases hitting nearly 400 defendants since taking the bench since 2003; and Robert L. Pitman, whose patent cases have targeted just under 120 defendants since he joined the court in 2014. Some have seen just a handful of patent suits since taking the bench—including District Judge Alia Moses, who is set to take over the chief judgeship in November after Judge Garcia ages out of the position. The only patent case that has ever come before Judge Moses was filed on July 25, assigned to her as a result of the new judge assignment order.
Patent Litigation in W.D. Tex. by District Judge, 2010-2022 YTD (Defendants Added to Campaigns, % NPE/Operating Company and Total)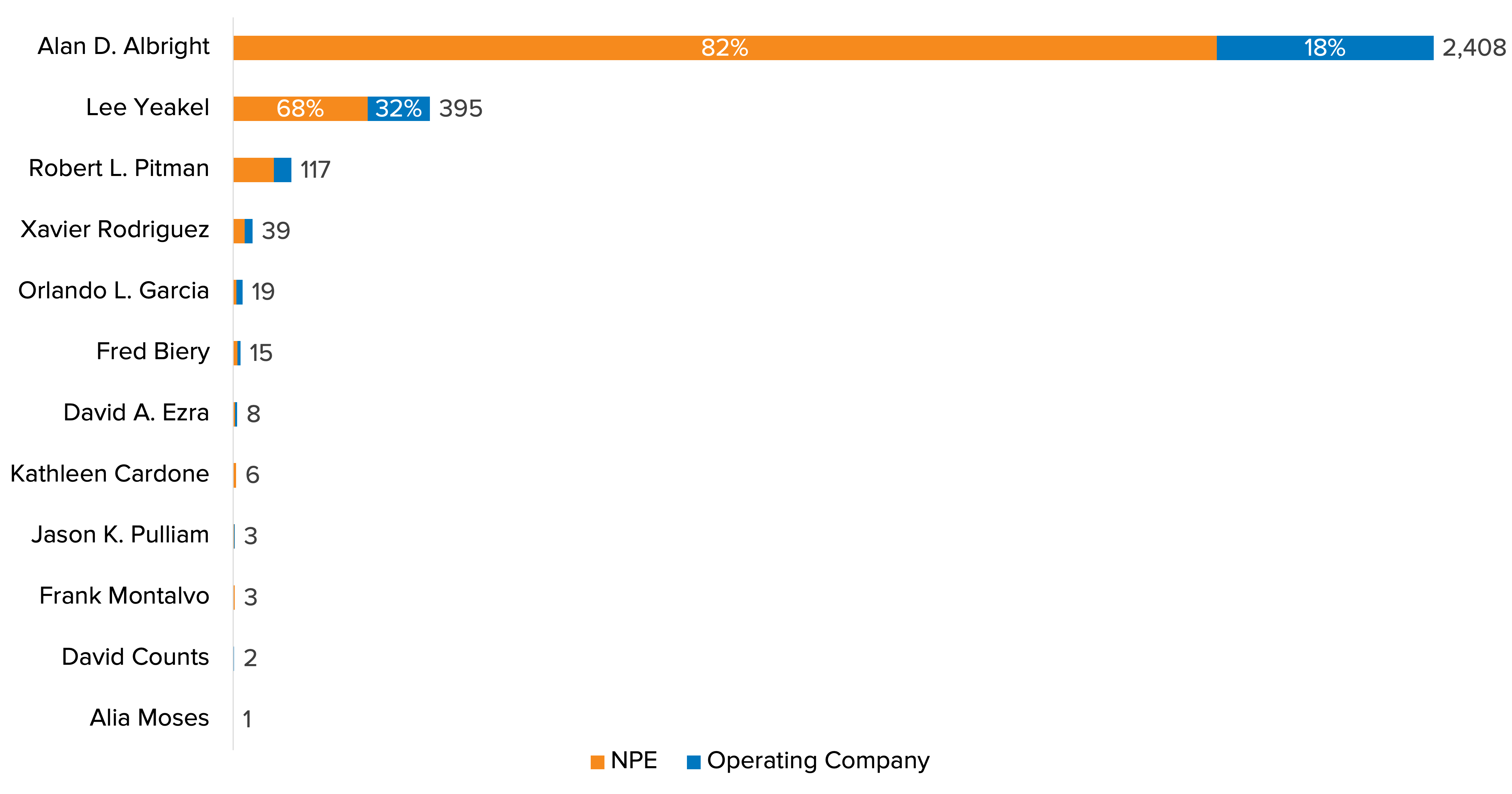 Just a subset of these judges appear to have taken cases through trial—including Chief Judge Garcia, who (prior to taking the chief judgeship) oversaw NPE Two-Way Media Ltd's trial against AT&T, which ended in a $27.5M infringement verdict in 2014 (5:09-cv-00476); and Judge Yeakel, who oversaw a trial between NPE DDB Technologies LLC and Fox Sports Interactive Media that ended in the defendant's favor. Additionally, District Judge Xavier Rodriguez presided in 2011 over a medical device trial in litigation filed over university-developed patents that culminated in an infringement verdict (5:08-cv-00102); and Judge Ezra, who oversaw an oil drilling trial in litigation filed by a Schlumberger subsidiary against former partner FPUSA, which led to an infringement verdict in October 2021 (5:15-cv-00406).
Time will tell if plaintiffs will seek to roll the dice on Waco going forward, given the likelihood of ending up before someone other than Judge Albright. But without the sure bet of ending up in his courtroom, it is possible that Waco's patent caseload is about to drop precipitously—unless Judge Moses, once she takes over the chief judgeship, opts to revisit the standing order, as some practitioners have speculated.
See RPX Insight for additional coverage of Judge Albright.