Ink cartridge and recording apparatus
CAFC
First Claim
1. An ink cartridge, comprising:
an ink container having an upper wall, a bottom wall, a first side wall and a second side wall;

an ink supply port disposed on the bottom wall closer to the first side wall than the second side wall, the ink supply port having an axis;

a retaining member disposed on the first side wall, the retaining member having a protruding engagement portion;

a projecting portion located in a region where a plane of the second side wall and a plane of the bottom wall intersect, and extending away from the first side wall, the projecting portion having a surface lying in a plane that is substantially parallel to the axis;

a memory unit disposed on the ink jet cartridge; and

a plurality of electrodes disposed on the surface and which are in electrical communication with the memory unit.
View all claims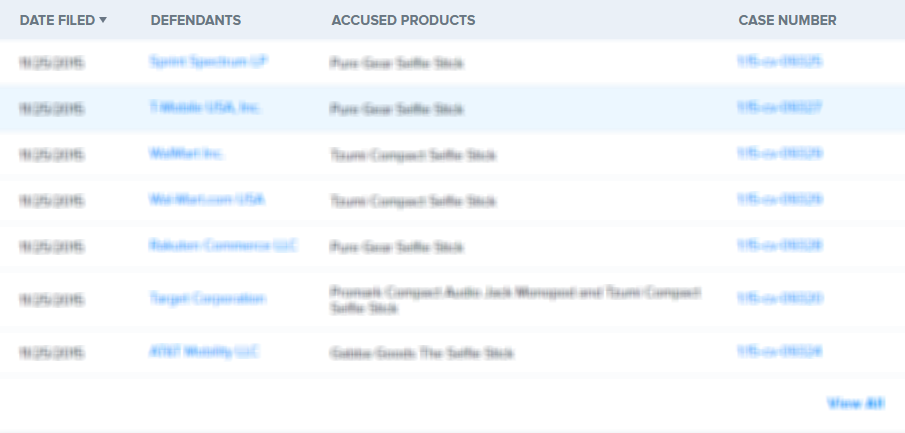 The ink cartridge includes an ink supply port formed at a position, offset to one side, of a wall configuring an ink container body; a positioning projecting portion, formed on one wall out of two opposing walls adjacent the wall, whose upper surface and side portion are regulated in position when the cartridge has been mounted on a recording apparatus; a lever, formed on the other wall out of the two walls, maintaining a normal hinged-open state and having a projection that is forcibly displaced outward when the cartridge is mounted on the recording apparatus; and electrodes that are connected to a memory unit storing information on the ink in an ink container and formed on the positioning projecting portion.
1. An ink cartridge, comprising:

an ink container having an upper wall, a bottom wall, a first side wall and a second side wall;

an ink supply port disposed on the bottom wall closer to the first side wall than the second side wall, the ink supply port having an axis;

a retaining member disposed on the first side wall, the retaining member having a protruding engagement portion;

a projecting portion located in a region where a plane of the second side wall and a plane of the bottom wall intersect, and extending away from the first side wall, the projecting portion having a surface lying in a plane that is substantially parallel to the axis;

a memory unit disposed on the ink jet cartridge; and

a plurality of electrodes disposed on the surface and which are in electrical communication with the memory unit.

View Dependent Claims

(2, 3, 4, 5, 6, 7, 8, 9, 10, 11, 12, 13, 14, 15, 16, 17, 18, 19, 20, 21, 22, 23, 24, 25, 26, 27, 28, 29, 30, 31, 32, 33, 34, 35, 36, 37, 38, 39)
×
Thank you for your feedback