Electrodes, methods, apparatuses comprising micro-electrode arrays
CAFC
First Claim
1. A method of determining the concentration of glucose in a blood sample, comprising:
providing a disposable biosensor test strip including a capillary chamber having a depth suitable for capillary flow of blood and holding a volume of between about 0.1 μ

l and about 1.0 μ

l of the blood sample, a working electrode and a counter or reference electrode disposed within the capillary chamber, and a reagent proximal to or in contact with at least the working electrode, the reagent including an enzyme and a mediator, the reagent reacting with glucose to produce an electroactive reaction product;

applying a blood sample containing glucose into the capillary chamber, the capillary chamber directing capillary flow of the blood sample into contact with the reagent to cause the blood sample to at least partially solubilize or hydrate the reagent;

detecting the blood sample in the capillary chamber;

following said detecting, applying or controlling the voltage or current across the working and counter or reference electrodes;

electrooxidizing or electroreducing the electroactive reaction product at the working electrode; and

within 10 seconds after said detecting, determining and providing a readout of the glucose concentration in the blood sample, said determining comprising correlating the electrooxidized or electroreduced electroactive reaction product to the concentration of glucose in the blood sample.
View all claims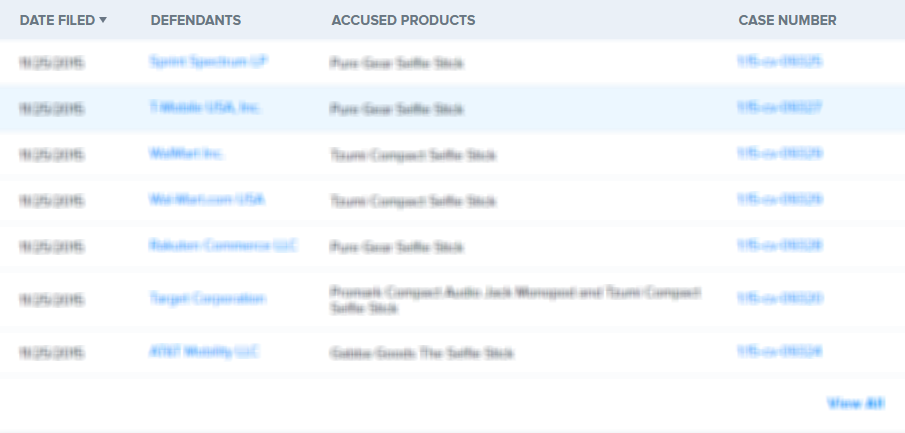 Described are micro-arrays of electrodes disposed proximal to a flexible substrate, electronic components and sensors comprising such arrays, and methods of use for such arrays.
1. A method of determining the concentration of glucose in a blood sample, comprising:

providing a disposable biosensor test strip including a capillary chamber having a depth suitable for capillary flow of blood and holding a volume of between about 0.1 μ

l and about 1.0 μ

l of the blood sample, a working electrode and a counter or reference electrode disposed within the capillary chamber, and a reagent proximal to or in contact with at least the working electrode, the reagent including an enzyme and a mediator, the reagent reacting with glucose to produce an electroactive reaction product;

applying a blood sample containing glucose into the capillary chamber, the capillary chamber directing capillary flow of the blood sample into contact with the reagent to cause the blood sample to at least partially solubilize or hydrate the reagent;

detecting the blood sample in the capillary chamber;

following said detecting, applying or controlling the voltage or current across the working and counter or reference electrodes;

electrooxidizing or electroreducing the electroactive reaction product at the working electrode; and

within 10 seconds after said detecting, determining and providing a readout of the glucose concentration in the blood sample, said determining comprising correlating the electrooxidized or electroreduced electroactive reaction product to the concentration of glucose in the blood sample.

View Dependent Claims

(2, 3, 4, 5, 6, 7, 8, 9, 10, 11, 12, 13, 14, 15, 16, 17, 18, 19, 20, 21, 22, 23, 24, 25, 26, 27, 28, 29, 30)
31. A method of determining the concentration of glucose in a blood sample, comprising:

providing a disposable biosensor test strip including a capillary chamber having a depth suitable for capillary flow of blood and holding a volume of between about 0.1 μ

l and about 1.0 μ

l of the blood sample, a working electrode and a counter or reference electrode disposed within the capillary chamber, and a reagent proximal to or in contact with at least the working electrode, the reagent including an enzyme and a mediator, the reagent reacting with glucose to produce an electroactive reaction product;

applying a blood sample containing glucose into the capillary chamber, the capillary chamber directing capillary flow of the blood sample into contact with the reagent to cause the blood sample to at least partially solubilize or hydrate the reagent;

detecting the blood sample in the capillary chamber;

following said detecting, applying or controlling the voltage or current across the working and counter or reference electrodes;

electrooxidizing the electroactive reaction product at the working electrode; and

within 10 seconds after said detecting, determining and providing a readout of the glucose concentration in the blood sample, said determining comprising correlating the electrooxidized electroactive reaction product to the concentration of glucose in the blood sample.

View Dependent Claims

(32, 33, 34, 35, 36, 37, 38, 39, 40, 41, 42, 43, 44, 45, 46, 47, 48, 49, 50, 51, 52, 53, 54, 55, 56, 57, 58, 59, 60, 61, 62)
×
Thank you for your feedback