2020 Marketplace Trends: Former Operating Company Patents Remain a Strong Driver of NPE Litigation
As extensively reported by RPX, the acquisition and assertion of operating company patents by NPEs remained a significant driver of litigation throughout 2020. Be prepared for this long-term trend to possibly accelerate as a result of the COVID-19 recession. If past is prologue, the current financial crisis will likely be followed by years of increased patent divestments by operating companies—including to NPEs.
The Great Recession of 2008 appears to have acted as a catalyst for operating companies to begin divesting patents to NPEs. A look back at that period suggests that some operating companies divested patent assets because they were experiencing financial distress or had gone bankrupt and liquidated their assets, or because they were looking for new revenue streams amid the difficult economy. Some companies divested assets in connection with M&A activity that has historically occurred in connection with economic downturns and recoveries.
Indeed, many patent holders—including operating companies and universities—are currently facing increased pressure to preserve, as well as augment, balance sheet cash. Expect many to turn in the coming year to their patent portfolios as a source of revenue, including by selling patent assets to NPEs, by entering into privateering partnerships with NPEs, and/or by monetizing their own assets directly through licensing or litigation. Consequently, a rise in NPE litigation may follow—this time without the dampening effect that Intellectual Ventures LLC (IV) patent acquisition activities had on patent litigation following the last two recessions.
As illustrated below, RPX analysis indicates that approximately 85% of the patent litigation filed each year since 2005 has involved operating company patents, with the vast majority of defendants sued by NPEs.
Defendants Added to District Court Litigation by Defendant Start Year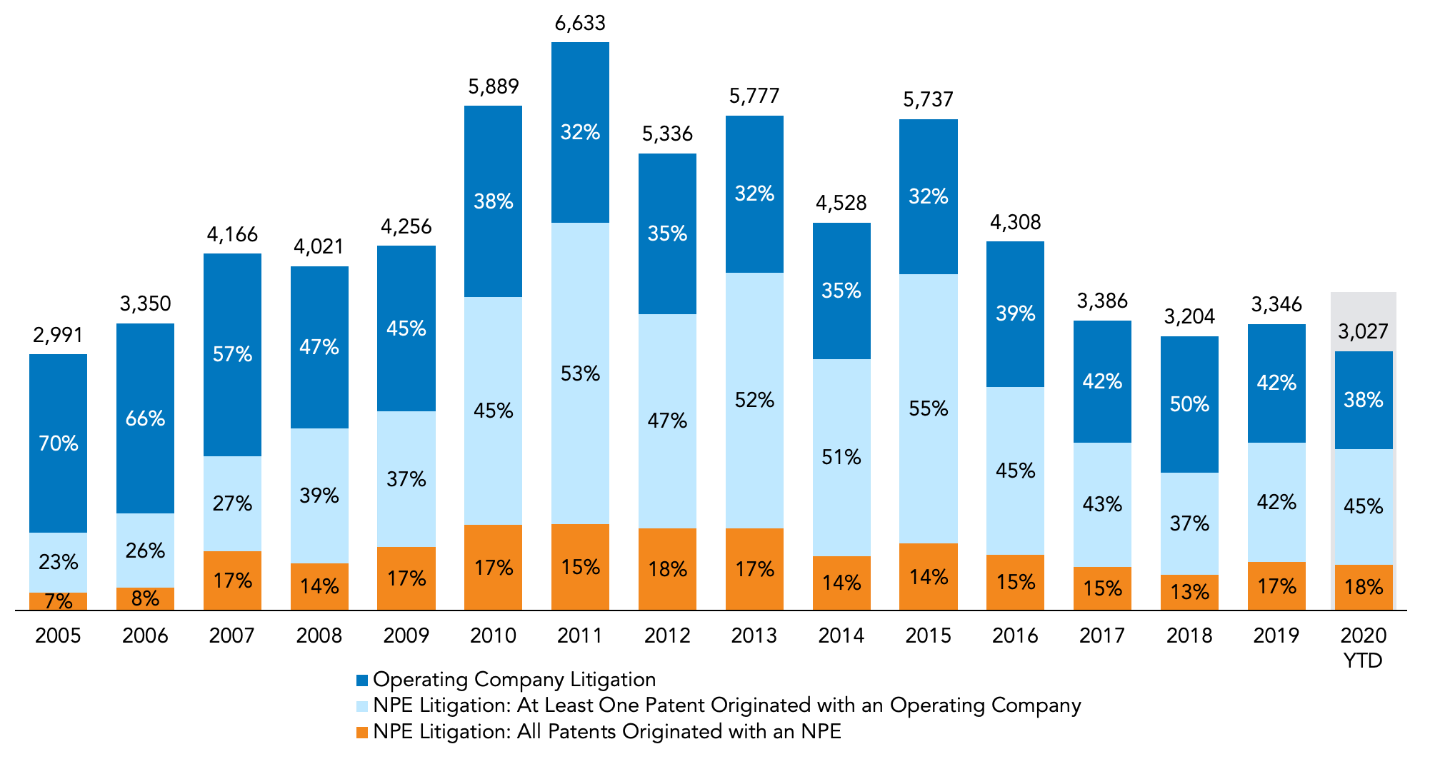 Notable 2020 Patent Transactions Involving Operating Company Patents
While not an exhaustive list, the following highlights 2020 assignments to notable NPEs of patents originating with major operating companies. Each NPE assignee is notable in light of its litigation history (or that of its corporate parent); its patent holdings; and/or its backing by third-party litigation funders.
IPValue Management (Monterey Research, LLC) to IP Edge LLC
In February, Monterey Research, LLC—a subsidiary of IP Value Management (d/b/a IPValue), owned by private equity firm Vector Capital—assigned a handful of US patents to IP Edge LLC's Spindletop IP LLC. The five patents originate with AMD, Cypress Semiconductor, or Fujitsu, each issuing between February 2001 and March 2005 with estimated priority ranging between September 1998 and March 2004.
The following month, Spindletop IP transferred one of the patents received from Monterey Research (6,819,539) to Pearl IP Licensing LLC, another IP Edge affiliate. Pearl Licensing has since begun litigating the '539 patent, hitting Deutsche Telekom (T-Mobile) (6:20-cv-00260) on March 31 in the Western District of Texas. The '539 patent was developed by Cypress and generally relates to a circuit that can recover from certain "stress conditions". T-Mobile is accused of infringement through the provision of certain "apparatus[es]"—identifying as an exemplary accused product the Motorola Z2 Force smartphone, targeted over its inclusion of Qualcomm processors with certain power and voltage management features.
Currently available USPTO records indicate that Monterey Research holds over 2,500 US patents, received in various transfers from Cypress between August 2016 and December 2019. It is currently litigating patents from among those holdings.
Marconi to Acacia Research Corporation
Also in February, Marconi (as FIO Semiconductor Technologies, LLC) assigned over 55 US assets to publicly traded NPE Acacia Research Corporation. The transacted portfolio includes patents developed by Fusion-IO, a flash memory card maker that SanDisk acquired in 2014 for $1.1B. (SanDisk was acquired by Western Digital in 2016.) The portfolio, which also includes foreign counterparts in China, Germany, and elsewhere, also contains patents originating with Samsung.
Early summer saw Acacia begin litigating assets from the portfolio received from Marconi, hitting each of Dell, HP, and Micron Technology over patents generally related to managing data stored on non-volatile storage media. See "Acacia Launches New Litigation Targeting Solid-State Drives" (June 2020).
Following relatively quiet first and second quarters, Acacia—which early this year kicked off a strategic partnership with the hedge fund Starboard Value—reported a surge in licensing revenue during Q3 2020, also disclosing what it called a "substantial settlement" and "significant" portfolio acquisition during that period. RPX coverage is available here.
Xerox to IP Edge LLC
In April, Xerox and subsidiary PARC assigned a total of 133 US patent assets to Majandro LLC, an NPE associated with IP Edge. The transacted portfolios generally concern a wide range of technical fields, including cryptography, document management, optical character recognition, and various semiconductor technologies.
Majandro has since moved batches of those patents to various sister IP Edge entities, including Fusion IP LLC, Gladiator IP LLC, Milestone IP LLC, Paradise IP LLC, and Realm Licensing LLC, each of which has kicked off its own litigation.
Xerox is a familiar source of patents for IP Edge. A dozen of the firm's affiliated entities litigated patents received from Xerox beginning in May 2015—the group hitting a combined 412 defendants, as shown below.
| | |
| --- | --- |
| | |
| | |
| | |
| | |
| | |
| | |
| | |
| | |
| Ruby Sands LLC / Sapphire Crossing LLC | |
| | |
| | |
| | |
Since 2015, publicly available assignment records also indicate that Xerox and/or PARC have also assigned approximately 80 patent assets to IV, several of which have spawned subsequent NPE litigation, including, for example, by Corrino Holdings LLC—a plaintiff associated with monetization firm IPValuation Partners LLC (d/b/a IPVal).
Huawei to Crystal Clear Codec LLC
Currently available USPTO records also reflect two April 2020 assignments from Huawei to Crystal Clear Codec LLC. While on their face the assignments appear to have involved just four US assets—each generally related to encoding and decoding technology—a review of the assignment agreement between the parties (see here) indicates that the transaction in fact comprised 16 US patents and one pending US application.
That assignment agreement also identifies David Sewell as the CEO of Crystal Clear Codec, which he formed in Texas in May 2019. Sewell also controls EVS Codec Technologies, LLC, which in 2018 revived an Acacia Research Corporation (Saint Lawrence Communications LLC) campaign with suits against each of Huawei, LG Electronics (LGE), and ZTE, accusing the companies of infringing a group of former VoiceAge patents through the provision of mobile devices that support the Enhanced Voice Services (EVS) codec via Ultra HD Voice compatibility.
The EVS Codec campaign remains active as of the publication date of this report, with Saint Lawrence having been dragged back into litigation over a standing dispute; T-Mobile added as a defendant in February 2019; and Huawei dismissed without prejudice in July of last year. More information about the EVS Codec campaign, as well as that of another Sewell-controlled NPE, Advanced Codec Technologies, LLC, is available at "VoiceAge's Fortress Partnership Spawns New Campaign as Related Acacia Litigation Continues" (October 2019).
Pantech to SIPCO LLC
May saw Pantech assign to SIPCO LLC—a Glocom, Inc. NPE that has hit roughly 80 defendants through its networking campaign—a single US patent generally related to a terminal and network connection method.
Overlapping sets of homegrown SIPCO patents are currently at issue in the NPE's long-running networking campaign, which this year has hit D-Link, HP Enterprise (HPE) (Aruba Networks), and TP-Link—bringing the campaign defendant count to roughly 80. SIPCO's latest complaints target Aruba Networks over its provision of various networking products (e.g., access points, gateways, and mesh networking solutions) that use the Bluetooth 5 or Zigbee standards; D-Link and TP-Link, over provision of smart home routers, controllers, and sensors that use the Z-Wave or ZigBee mesh networking standards. This campaign has been running continuously since 2005, albeit with a change of ownership in the beginning of 2018. See "SIPCO Ratchets Up One of the Longest Running Active Litigation Campaigns" (April 2020) for more details as well as additional background about SIPCO.
As of the publication date of this report, a number of NPEs are litigating patents received from Pantech, including Hypertext Technologies LLC, which in December 2019 sued Alphabet (Google), Apple, BBK Electronics (One Plus), and Yulong Computer Communications (Coolpad Technologies) over a patent generally related to jumping from a text message containing a URL to the corresponding website. Public records tie Hypertext to Cellular Evolution LLC, which has asserted former Pantech patents against AT&T and T-Mobile, targeting the wireless providers' respective 3G networks, with the T-Mobile complaint calling out its alleged sale of "products for use on its network", including certain mobile devices made by Alphabet (Google), Apple, Lenovo (Motorola Mobility), LGE, OnePlus, Samsung, TCL (under the Alcatel brand), and Coolpad.
Further information about the Hypertext and Cellular Evolution campaigns are available here and here, respectively.
Technicolor SA to IP Edge LLC
In July, IP Edge acquired over 700 US assets, and many more foreign assets, from Technicolor SA, a provider of services and products for the communication, media, and entertainment industries.
A copy of the July 8 assignment agreement between Thomson Licensing SA (a Technicolor subsidiary) to Magnolia Licensing LLC (which Texas public records tie to IP Edge) has been filed with the USPTO and sheds light on the transaction's size: Attached to the agreement (see here) is an over 150-page list of transacted assets, which include patents filed in Asia, Europe, and elsewhere. A list of those transacted US assets can be accessed on RPX Insight, with a view of Magnolia's US patent holdings as indicated by currently available USPTO records available here.
Ascentive Software to Panther Innovations LLC
Also in July, Ascentive Software (as Ascentive LLC), a Philadelphia-based maker of "PC performance software", assigned a portfolio of three networking patents to Panther Innovations LLC, an NPE with ties to a group of NPEs with campaigns starting as early as 2014—and which to date, has collectively added nearly 90 defendants to litigation: American Patents LLC (currently waging multiple campaigns asserting patents received from IV); Liberty Patents LLC (holding over 50 US assets received from IV); Dynamic Hosting Company LLC (which litigated two patents originating with Connect One, a fabless semiconductor company, against more than 30 defendants in 2014-2015); Plectrum LLC (which ran a networking campaign in 2017 that hit 16 companies over patents acquired from HPE); and Snyders Heart Valve LLC (which has an ongoing medical devices campaign).
Panther Innovations has launched two campaigns to date asserting former Ascentive patents; see "Panther Innovations Hits Microsoft in New Network Optimization Campaign" (November 2020) for more details.
KT Corporation to Harfang IP (Golden Eye Technologies LLC)
In September, South Korean telecommunications company KT Corporation assigned 28 US patents, as well as foreign counterparts in China, Japan, and Korea, to Golden Eye Technologies LLC. That initial assignment was followed by the transfer of another 13 US patents on November 9. The portfolio now held by Golden Eye appears to have been developed by KT. It broadly concerns wireless communications and can be reviewed on RPX Insight here.
Golden Eye was formed in Texas this past August, with public records identifying Christopher Dubuc's monetization firm, Harfang IP Investment Corp (d/b/a Harfang IP), as its managing member. Just over three years after cofounding Longhorn IP LLC with Khaled Fekih-Romdhane, Dubuc left the firm and changed the name of an existing Texas entity under his control to Harfang IP. The firm has since formed a number of NPEs in that state and also announced a partnership with Intellectual Ventures LLC. See "Intellectual Ventures to Partner with Harfang IP's Ozmo Licensing" (January 2020) for more information.
Harfang IP has not filed any patent suits to date, but with both Dubuc and the firm's chief IP officer (Chris Dodd) both having held past positions at Acacia Research Corporation and Quarterhill Inc. (f/k/a WiLAN Inc.), litigation against the firm's licensing targets is likely not off the table.
Asia Optical International Limited to IPVal (Ranging Optics LLC)
Also in September, Asia Optical International Limited assigned three US patents to Ranging Optics LLC, an NPE affiliated with patent monetization firm IP Valuation Partners LLC (d/b/a IPVal). The transacted portfolio—two utility patents and one design patent—was developed by Asia Optical International, a Hong Kong-based electrical and electronic manufacturing company. The patents generally relate to a signal detector, a laser distance meter, and a "light receiving circuit of a laser range finder".
Ranging Optics was formed in early September, with Texas public records identifying an IPVal associate as its managing member. IPVal itself was cofounded in August 2012 by Adam Baumli, Jason Bourgeois, and Jonathan Szarzynski. (In August 2018, Szarzynski left IPVal and formed his own monetization firm, Endpoint IP LLC.) Through various affiliates, the firm has initiated over 35 litigation campaigns across a wide range of technology areas in the last few years. While the firm experienced somewhat of a lull in its filing activities in the wake of Szarzynski's departure, it nevertheless ended 2019 among the most frequent NPE plaintiffs—and it appears to be on course to make that list again in 2020.
Meanwhile, on December 3, Ranging Optics filed its first suit, hitting Bass Pro (Cabela's) over two of the patents received from Asia Optical—and with Cabela's Intensity 1600 Rangefinder in its sights.
IBM to Quarterhill Inc. (Elpis Technologies Inc.)
September also saw Elpis Technologies Inc. (a subsidiary of Quarterhill Inc.'s licensing arm, Wi-Lan Inc.) receive over 100 more US assets from IBM. That transaction followed Quarterhill's acquisition earlier this year of hundreds of US patents from the same source, bringing its US patent holdings to over 1,000. In a September 30 press release, Quarterhill described the newly acquired patents as relating to "semiconductor manufacturing process technologies".
The patents assigned by IBM to Elpis Technologies have not been litigated as of the publication date of this article; however, in August, another Wi-LAN subsidiary, Auriga Innovations, Inc., filed its first infringement suit of 2020, asserting seven semiconductor patents originating with IBM but acquired from GlobalFoundries. The Western District of Texas complaint named HP, HPE, and Intel as defendants, with Intel accused of infringement through the provision of certain processors incorporating FinFET technology and fabricated using the company's 14++ nm and 10 nm processes and HP and HPE targeted over the manufacture of various devices (consumer laptops/desktops and servers, respectively) incorporating those Intel chips. For a closer look at the suit and the asserted patents, see "Quarterhill Breaks Seal on New Patent Litigation in 2020" (August 2020).
According to a press release issued by Quarterhill on October 1, that short-lived case has been resolved by a multi-year patent license agreement signed with Intel, the terms and conditions of which are confidential.
Following a slump during Q2, Quarterhill reported dramatically increased patent licensing revenue in the third quarter of 2020, with the publicly traded NPE recording its "best quarter" in three years. See "Acacia, Quarterhill Report Surge in Q3 Licensing Revenue" (November 2020) for more details.
ZTE to G+ Communications LLC
Currently available USPTO records also reflect a September patent divestment by ZTE, this one to NPE G+ Communications LLC. The transacted assets comprise 15 US patents apparently developed by ZTE and generally related to wireless standards.
G+ Communications was formed in Delaware in August of this year. That state's public records do not provide any information about the NPE's personnel; however, an individual associated with numerous NPE campaigns—Texas attorney Bradley D. Liddle—served as the correspondent on the assignment from ZTE, suggesting a possible connection. (If there is one, an assignment from the Delaware NPE to a Texas counterpart is likely a next step, as assertion in Delaware-Texas pairs is characteristic of NPEs affiliated with Liddle.)
G+ Communications has not filed any patent litigation as of the publication date of this report.
Sharp to K.Mizra LLC
In October, Sharp assigned over 25 US patent assets, as well as counterparts in Asia and Europe, to K.Mizra LLC—a Delaware NPE that made its litigation debut the following month with a suit against Cisco. With that acquisition, K.Mizra's US patent holdings climbed to over 170 assets, including patents originating with IBM, Panasonic, or ZTE.
The transacted assets appear to have been developed by Sharp and generally concern a range of technologies, including image formation, document reading devices, a printing interface, and a toner replenishing apparatus.
In June of this year, K.Mizra received (through Ginegar LLC, an entity that K.Mizra appears to manage) roughly 30 former IBM patents from NPE Daedalus Blue LLC. While Daedalus Blue has filed multiple cases asserting former IBM patents, so far hitting Oracle, MicroStrategy, and SZ DJI Technology, K.Mizra appears to be sitting on the portfolio received from Daedalus—for now.
In July, K.Mizra added to its holdings just over 30 more patents, these from DataServ Technologies LLC, a Delaware entity on the behalf of which a John Green has signed as "Head of Operations". The patents acquired from DataServ originated with Nederlandse Organisatie Voor Toegepast-Natuurwetenschappelijk Onderzoek (TNO), a research organization in the Netherlands.
K.Mizra was formed in Delaware in June 2019. In California (where K.Mizra filed as a foreign entity), attorney Charles Jourdan Hausman is identified as the NPE's sole managing member. K.Mizra's business is also described as "buy & license out patents" in corporate filings there, which provide a residential address in Los Angeles for the NPE.
On social media, "Chuck" Hausman identifies himself as having been the chief licensing officer at K.Mizra since July of last year; the chief licensing officer with Netlist, a company that "designs, manufactures, and sells modular memory subsystems", from October 2018 to June 2019; "President Sisvel US", from October 2015 to 2018; a "World Wide Program Manager" with One Red, "a joint patent licensing pool offered by Sony, Pioneer, LG, and Philips"; and director and senior intellectual property counsel at Philips, from 2006 to 2012.
K.Mizra appears to have launched a public website in 2020, where it identifies its patent holdings by geographic regions that purportedly provide "K.Mizra with a global patent footprint": North and South America, Europe, and Asia. The company describes its holdings in more detail: "The portfolios include patents from well know [sic] multinationals such as IBM, Panasonic and ZTE. Also owned are patent portfolios that originated with research institutes such as National Chiao Tung University and [TNO]. Finally, we own portfolios that originated with mid-size corporations and individual inventors".
K.Mizra's current US assets, at least as reflected in available USPTO records, can be reviewed on RPX Insight.